Red Wings sign Green, Vanek & Bernier on first day of free agency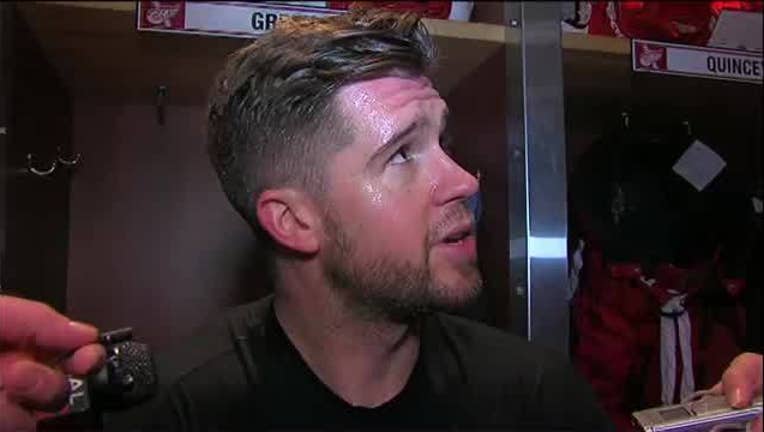 DETROIT (WJBK/AP) - Ken Holland once transitioned the Detroit Red Wings from Steve Yzerman, Sergei Fedorov and that generation of greats to the one that followed with Pavel Datsyuk and Henrik Zetterberg. Now he's trying to do it again.
The veteran general manager knows it won't be as easy this time, so he's adding and keeping some older players to bridge the gap. On Sunday , the Red Wings signed 34-year-old winger Thomas Vanek and 29-year-old goaltender Jonathan Bernier and re-signed 32-year-old defenseman Mike Green.
"It's going to take a little bit of time, we have to have some patience," Holland said. "I believe we're headed in the right direction. In the short term, trying to bring in some veteran players obviously to mentor, to role-model the young kids. We need to be competitive. It's important to develop players if they're in an environment that's positive and we go into every game we have a chance to win and we're trying to obviously juggle having veterans on the roster and moving young players into the roster."
Green is staying with the Detroit Red Wings on a $10.75 million, two-year contract.
A person with direct knowledge of the move told The Associated Press that the Red Wings agreed to terms with the 32-year-old defenseman on the new deal that counts $5.375 million against the salary cap each of the next two seasons.
Green was considered one of the top pending free agent blue liners available after former Washington teammate John Carlson re-signed with the Capitals for $64 million over eight years. He put up eight goals and 25 assists for 33 points in 66 games before his season was cut short by a neck injury.
With the neck injury that cut his season short has healed, he wanted to remain with the Red Wings and help bring along the next generation.
"There's a lot that weighed on my decision to stay," Green said. "I think it's easy sometimes just to go somewhere else, especially with the transition that's going on there in Detroit, but I feel like I can be useful in the next couple years kind of helping the younger guys develop quicker and speed up that process."
Seven of Green's eight goals came on the power play, where he's a stabilizing force for Detroit. Twice a runner-up for the Norris Trophy as the NHL's top defenseman during his time with the Capitals, Green is taking a pay cut from his previous $6 million salary to stay with the Red Wings.
Green has 142 goals and 322 assists for 464 points in 787 regular-season games with Washington and Detroit.
Vanek enjoyed his 48 games with the Red Wings in 2016-17 so much he wanted to return last summer, but they didn't have the salary-cap space. He's not the prolific scorer he was a decade ago, but Vanek was in demand after putting up 15 points in 19 regular-season games with the Blue Jackets as a trade-deadline pickup.
"We had a few options, but Detroit, ever since I've been there, I loved it," Vanek said. "I really liked the whole culture of the organization and the guys were great."
Vanek became the highest drafted Austrian-born player when the Buffalo Sabres selected him with the No. 5 pick in 2003.
Overall, he has 357 goals and 396 assists for 753 points in 965 career NHL games.
Bernier has played in 289 NHL games over 10 seasons and has a career 2.67 GAA & a .914 save pct. 
Last season he played 37 regular season games and four playoff games for the Colorado Avalanche.  The Quebec native had a 19-13-3 record with a 2.85 GAA & a .913 save pct. last regular season.  
Bernier became the odd man out in Colorado after the Avalanche traded for Capitals backup goaltender Philipp Grubauer. He'll get the chance to compete for starts with Jimmy Howard.
"We're going to push each other to bring this team back to the playoffs," Bernier said. "I didn't want to be in a position where I played 15, 20 games. I want to come in and have a chance to play as much as possible obviously depending on play. I just thought it was a great opportunity that me and Jimmy can battle for our games."
Holland isn't worried about clogging the roster up for young players. Sixth overall pick Filip Zadina should be able to play right away up front, and the Red Wings have begun to rebuild their prospect pipeline.
One immediate problem could be the health of captain Henrik Zetterberg, who has been hampered by back problems and is no sure bet to be able to play next season. Zetterberg, who turns 38 in October, cast doubts on his future after the season, and Holland can't say with any certainty what will happen with the Swedish center.
"Last I talked to him, I think he's planning on playing," Holland said. "Obviously his back is going to determine whether he can or he can't. ... When you're dealing with the back and you're dealing with the health of a person, it's hard to read the future when it comes to health. Obviously that's a key piece for us. I'll stay in touch with Henrik as we get into July to see how his health is."
Follow @FOX2Sports on Twitter for all your Red Wings news.