Royals rally for 4-2 win over Tigers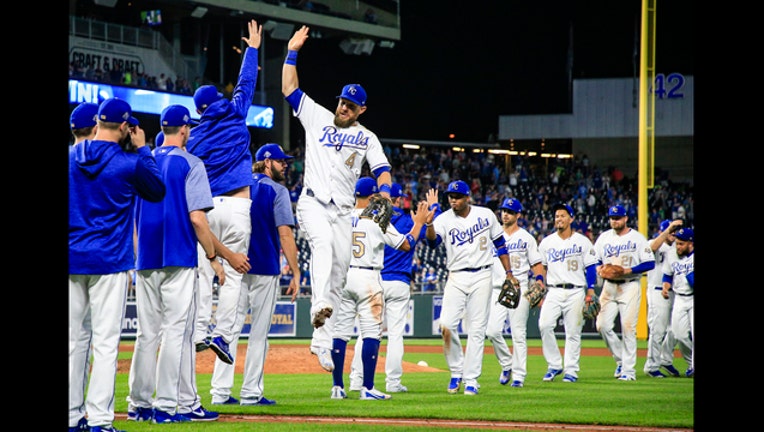 article
KANSAS CITY, Mo. (AP) - KANSAS CITY, Mo. (AP) - Jorge Soler thought his spectacular diving catch in the ninth inning that helped preserve the Kansas City Royals' 4-2 victory over the Detroit Tigers trumped his go-ahead single the previous inning.
Maybe that was because the young outfielder's defense has been so maligned early in his career.
Or maybe it was because he got to the foul ball before the ballboy.
You see, the Tigers had taken a 2-0 lead in the top half of the eighth when the ballboy down the first-base line mistakenly picked up a fair ball, resulting in a ground-rule double. Royals reliever Blaine Boyer (1-0) walked Victor Martinez before serving up JaCoby Jones' hard-hit double to left field.
But the Royals' answered when Francisco Liriano, who was stingy all night, walked Cheslor Cuthbert to start the eighth. Liriano was lifted for Daniel Stumpf (1-1), who gave up a pair of singles and was yanked for reliever Joe Jimenez, who promptly threw a wild pitch to score a run.
Whit Merrifield knotted the game moments later with a sacrifice fly, and Soler's single through the left side of the infield brought home two runs - and gave that embarrassed ballboy a bit of relief.
"I didn't think it was going to impact the game," said Royals manager Ned Yost said of the boy's flub, reasoning it would have been a double anyway. "At least he was awake."
Royals closer Kelvin Herrera worked a perfect ninth for his sixth save, though the highlight was Soler tracking down that fly ball along the wall and making a dramatic diving grab.
"I was in a little bit and I saw the line drive toward the wall," Soler said through a translator. "I actually worked on that particular play (before the game). The dive and catch."
The collapse by the Detroit bullpen squandered a stellar outing by Liriano, who gave up a run on three hits and two walks. It also added to the misery that began before the game, when the Tigers had to put slugger Miguel Cabrera on the disabled list with a strained right hamstring.
"It's disappointing. It's bothersome because we had some good performances," Tigers manager Ron Gardenhire said. "It was a great pitching matchup. Both starting pitchers did their thing. You score like that and that shutdown inning has got to come next and we didn't get it."
The Royals' Ian Kennedy was also sharp, facing the minimum through three innings before leaving runners stranded on the corners in the fourth. He allowed back-to-back singles leading off the fifth before striking out the side, then left two more runners at the corners to wrap up the sixth inning.
He left after throwing 103 pitches, allowing six hits and striking out seven with a single walk.
Liriano was even better at escaping jams, though. He got double plays to end the third, fourth and fifth innings, the last of them after a review that confirmed Lucas Duda out at first base, and then set the Royals down in order the next two innings before turning it over to his ragged bullpen.
"Get the first guy out and I didn't do that," Liriano said. "We lost the game."
REPLAY RECORD
Royals replay official Bill Duplissea improved to 9 for 9 on the season when he correctly challenged a call in the seventh inning. The Tigers' James McCann was called safe while stealing second base, but the Royals correctly argued that he had slid through the bag while the tag was applied.
CABRERA TO DL
Gardenhire hopes Cabrera, who was hitting .323 with three homers and 21 RBIs in 26 games, returns quickly but conceded "only time will tell." Detroit recalled C Grayson Greiner from Triple-A Toledo to fill his roster spot. John Hicks will get the majority of time at 1B while Cabrera is out.
OTHER MOVES
Detroit also selected the contract of LHP Blaine Hardy from Toledo after optioning LHP Chad Bell on Thursday night. ... The Royals optioned RHP Scott Barlow to Triple-A Omaha and selected the contract of RHP Jason Adam from the Storm Chasers. Adam was a fifth-round pick of the Royals from nearby Blue Valley Northwest High School. He was traded to Minnesota in 2014 and also spent time with San Diego, undergoing four surgeries before returning to Kansas City this past offseason.
UP NEXT
Tigers RHP Jordan Zimmermann has not allowed more than three earned runs in any of his first five starts, two of them having come against Kansas City. He starts Saturday against Royals RHP Jason Hammel.