Spurs Beat Pistons 103-92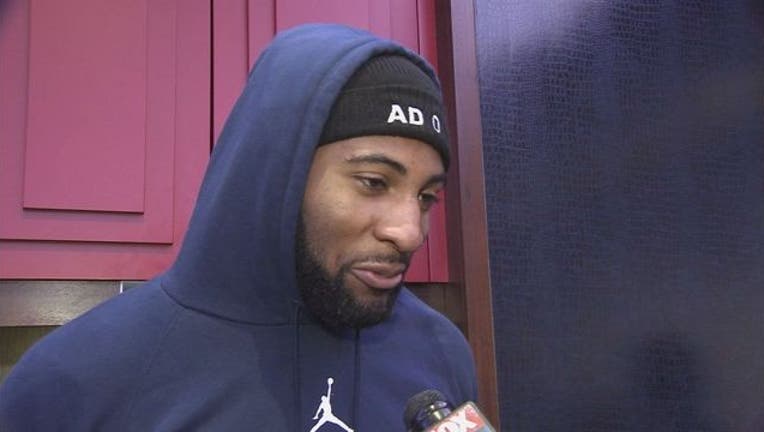 article
AUBURN HILLS, Mich. (AP) - Dewayne Dedmon is giving the San Antonio Spurs a lift while Pau Gasol works his way back from an injury.
Dedmon had 17 points and 17 rebounds - setting season highs in both categories - to help the Spurs to a 103-92 victory over the Detroit Pistons on Friday night. Dedmon set a career high in rebounds and finished one point shy of his career high in scoring.
"He hit the board hard, he ran the floor," coach Gregg Popovich said. "His energy, his aggressiveness, his defense - he was fantastic in that regard."
Gasol is out with a broken finger on his left hand, and Popovich said before the game the veteran big man won't play until after the All-Star break. Dedmon, San Antonio's other 7-footer, more than held his own against Detroit's Andre Drummond.
Dedmon had 13 points and 11 rebounds in the first half, and that was when San Antonio took control of the game. The Spurs led 27-19 after the first quarter and finished the second on a 12-2 run to take a 60-41 lead into halftime.
"I thought we really lost it mentally in the last few minutes of the second quarter," Pistons coach Stan Van Gundy said. "They probably outplayed us for the other 42 minutes, but we gave into frustration for those six minutes and that decided the game."
Kawhi Leonard finished with 32 points, and LaMarcus Aldridge added 19 points and 11 rebounds for the Spurs.
Drummond had 12 points and 15 rebounds for Detroit. The Pistons had won seven of their previous eight at home, but were no match for a San Antonio team with the NBA's second-best record.
Dedmon has reached double figures in rebounding in four of his past five games.
"Just be aggressive, stay on the boards, defense, block shots" Dedmon said. "Everything else just kind of comes with it."
The Spurs began their run to end the first half with a 3-pointer by Danny Green. Leonard added a 3 of his own and pushed the lead to 19 with a 12-footer with 13.4 seconds remaining.
FAREWELL
This was the last scheduled visit to The Palace for the Spurs, who played in the 2005 NBA Finals at the arena. The Pistons are set to move downtown next season.
Neither coach was all that interested in reminiscing about the building before the game.
"I've been through it with houses I've sold that my kids have grown up in," Van Gundy said. "I have a hard time getting nostalgic about steel and bricks and things like that. People, I can get nostalgic about. Buildings, I don't know. Maybe it's just me. I have a hard time getting teary-eyed about a building."
When told about Van Gundy's comments, Popovich concurred.
"Enough things in the world to get moved by," Popovich said. "Inanimate objects don't count."
SECOND CHANCES
The Pistons began the day allowing an average of 9.9 second-chance points per game, the lowest mark in the league. Detroit was outscored 20-7 by San Antonio in that category.
"We just didn't have the same energy tonight," Detroit's Tobias Harris said. "They were getting to the lane and making plays and we couldn't match them."
TIP-INS
Spurs: Tony Parker scored only two points but had 12 assists.
Pistons: Detroit had seven players in double figures, but no starter scored more than 12 points. Harris led the Pistons with 16 points, and fellow reserve Ish Smith added 15.
UP NEXT
Spurs: Visit the New York Knicks on Sunday, the fourth stop on an eight-game road trip.
Pistons: Visit the Toronto Raptors on Sunday night.