Tagovailoa, defense lead Maryland to an 31-9 victory Michigan State
EAST LANSING, Mich. - EAST LANSING, Mich. (AP) — Taulia Tagovailoa threw for three touchdowns and ran for another and Maryland's defense forced five turnovers Saturday as the Terrapins beat Michigan State 31-9.
For the first time since the season-opener against Towson, Maryland did not fall behind by 14-0 at the start of the game.
Tagovailoa, who completed 21 of 36 passes for 223 yards, led the Terrapins (4-0, 1-0 Big Ten) to touchdowns on three of their four first-half drives and a 21-3 halftime lead. He had scoring throws of 1 yard to Sean Greeley and 12 yards to Tyrese Chambers before plowing up the middle on a 1-yard touchdown run. Tagovailoa added a 31-yarder to Octavian Smith Jr. late in the fourth quarter.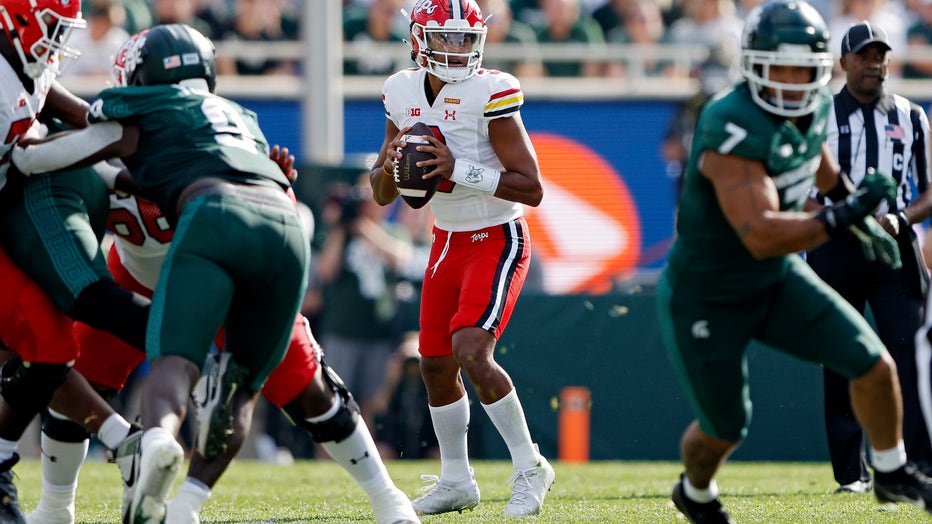 EAST LANSING, MICHIGAN - SEPTEMBER 23: Tualia Tagovailoa #3 of the Maryland Terrapins looks to pass in the second quarter of a game against the Michigan State Spartans at Spartan Stadium on September 23, 2023 in East Lansing, Michigan. (Photo by Mike
The Spartans (2-2, 0-1) were able to drive multiple times deep into Maryland territory, including to the 1-yard line, but were held to a 37-yard field goal by Jonathan Kim late in the second quarter and and a 9-yard touchdown pass from Noah Kim to Tyrell Henry in the third quarter.
Michigan State has dropped its first two games under Harlon Barnett, who was appointed interim coach to replace Mel Tucker, who was suspended Sept. 10 pending the results of an outside investigation into a USA Today report that alleged he sexually harassed activist and rape survivor Brenda Tracy during a phone call last year. The school announced Monday that Tucker will be fired without compensation for misconduct involving Tracy.
HISTORIC WIN
It is the first time Maryland has won at Michigan State since the Terrapins upset the No. 2-ranked Spartans in 1950. Maryland has also won its first four games of the season by at least 18 points for the first time since 1913.
THE TAKEAWAY
Maryland: While much attention has been on the offense, the Terrapins' defense has been impressive. Maryland has allowed only four offensive touchdowns in the first four games and have forced 11 turnovers, including three interceptions and two fumbles against Michigan State.
MSU: After giving up a school-record 713 yards to Washington last week, the Spartans' defense, which has little depth, has been hit with injuries. They were missing three defensive starters in cornerback Charles Brantley, linebacker Jacoby Windmon and defensive lineman Khris Bogle, plus key backups Marqui Lowery Jr. and Dre Butler.
UP NEXT
Maryland: Hosts Indiana on Saturday.
MSU: At Iowa on Saturday.