Tigers lose seventh straight, fall 1-0 to Padres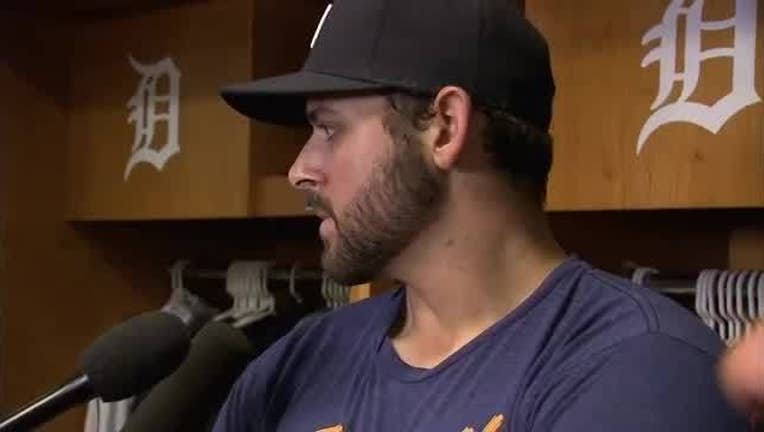 article
SAN DIEGO (AP) - Luis Perdomo's first scoreless outing of the season came at a great time for the San Diego Padres.
Perdomo (2-4) pitched two-hit ball over six innings, Austin Hedges had an RBI double and the Padres handed the Detroit Tigers their seventh straight loss, 1-0 on Friday night.
Having allowed at least one run in each of his starts, Perdomo outworked Detroit's Michael Fulmer and did not allow a hit until the fifth. Perdomo struck out six and walked five.
"I was able to make that adjustment, and luckily I was able to make it early on, early enough in the game that it was able to keep me in the game and make some pitches tonight," Perdomo said. "As you saw early on I was a little bit out of control with my mechanics and I was allowing those walks early on but then I was able to get a feel for it and make that adjustment in the game, which kept me in there."
Hedges doubled to the right-center gap in the second to drive home Cory Spangenberg, who reached base three times against Fulmer (6-6). It was Hedges' first at-bat since a collision at home plate with the Cubs' Anthony Rizzo that sidelined the catcher for two games.
"I was just looking for a mistake and he gave it to me," Hedges said. "His stuff is really good, as you can tell. Everything's hard and sharp"
Perdomo walked four batters in the first three innings, but twice escaped with double-play grounders to keep Detroit off the board.
"He was missing kind of wild the first couple of innings," Green said. "I thought he did a really good job adjusting as the game went on."
Brad Hand pitched a scoreless eighth and Brandon Maurer retired the side in the ninth for his 14th save.
Fulmer allowed one run on two hits over seven innings. He struck out eight and walked four. In Detroit's six shutout losses this season, Fulmer has been the starting pitcher in three.
"It's tough," Fulmer said. "It just seems we are in one of those stretches where nothing seems to go our way. Anything border-line is going against us right now. But, we just have to grind through and stick with it. I still believe in these guys in the clubhouse. I think everybody does."
Justin Upton went hitless in his return to San Diego, where he played the 2015 season.
"I'm just trying to have good at-bats and square a few balls up," Upton said. "It just didn't go our way. Our pitching did a great job, we just couldn't scratch one across."
EJECTED
Manager Brad Ausmus was ejected from the game for arguing a swinging strike call by first base umpire Jordan Baker.
"It was probably because of my emotion concerning the call he made," Ausmus said. "I wasn't real happy with the call of a check swing. I didn't think he went, and I still don't think he went after watching the replay."
QUOTABLE
"In the last week, we have not hit some relatively unknown pitchers," Ausmus said. "It doesn't mean they're not good or didn't have good games, they're just not household names."
TRAINER'S ROOM
Tigers: INF Nicholas Castellanos was scratched from the starting lineup with lower back tightness. ... Placed OF Alex Presley on the 7-day concussion disabled list. ... Recalled RHP Bruce Rondon from Triple-A Toledo.
Padres: INF Yangervis Solarte was placed on the 10-day disabled list with a strained left oblique. ... RHP Miguel Diaz went on the 10-day disabled list with a strained right forearm, ... Reinstated C Hector Sanchez from the 10-day disabled list and recalled INF Carlos Asuaje from Triple-A El Paso. ... OF Alex Dickerson will have back surgery and is expected to miss the remainder of the season.
UP NEXT
Tigers: RHP Anibal Sanchez (0-0, 7.90) takes the mound in the second game of the series. Sanchez will be making his second start of the season after pitching predominantly out of the bullpen for Detroit and following a stint in Triple-A Toledo.
Padres: Rookie RHP Dinelson Lamet (2-2, 7.50) will make the start for San Diego, following a career-high 12 strikeout performance last time out in Milwaukee.