Tigers' Miguel Cabrera expected to come off DL on Tuesday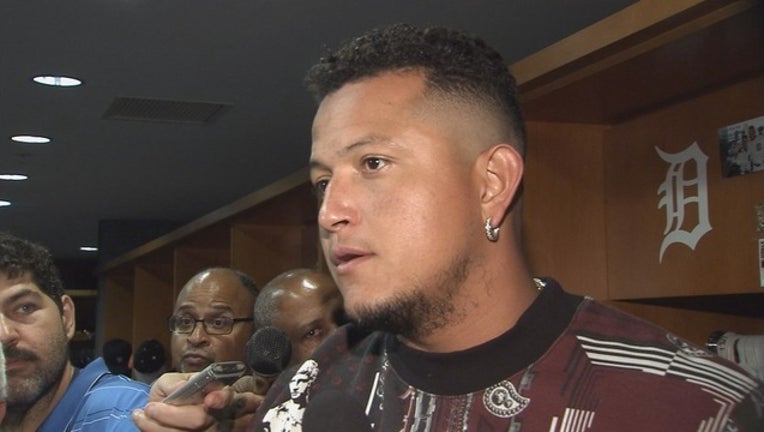 article
DETROIT (AP) - Miguel Cabrera sent a pitch deep to center field, clearing the wall with a shot that landed on a metal awning that covers TV cameras. He also launched a drive deep to left that sailed over rows of empty seats in batting practice.
"I feel good," Cabrera said.
He looked good, too, before the Detroit Tigers hosted the Cleveland Indians on Monday night.
Detroit manager Brad Ausmus said he expects Cabrera to come off the disabled list Tuesday and play against Cleveland.
"There's no reason to think he wouldn't be at this point," Ausmus said.
Cabrera hasn't played since April 21 because of a groin injury. The star slugger is hitting .268 with three homers and nine RBIs in 16 games.
"We want to avoid big, long-term injuries," Ausmus said. "The 10-day deal certainly helped us, five days shorter than previous seasons. Miggy is a guy you want all year. He's a guy who generally plays 150-something games and is one of the best hitters in any league. We obviously want him back. We think he'll be back (Tuesday) and hopefully he's healthy the rest of the way."
Cabrera played in 158 games last year, hitting .316 with 38 home runs and 108 RBIs. In nine seasons with the Tigers, the two-time AL MVP has played at least 158 games six times and fewer than 148 only once. In 2012, he became the league's first Triple Crown winner since Boston's Carl Yastrzemski in 1967.
Indians manager Terry Francona joked that the Tigers should let Cabrera rest more.
"My own personal opinion, I think they should be careful with him," Francona cracked.
To make room on the roster for Cabrera, the Tigers will probably have to send someone to the minors.
"It's always hard to tell someone they're being sent down," Ausmus said. "It's a little easier when you tell them they're being sent down because Miguel Cabrera is coming off the disabled list."