Tigers Outlast Red Sox in Slugfest 9-8 in Slugfest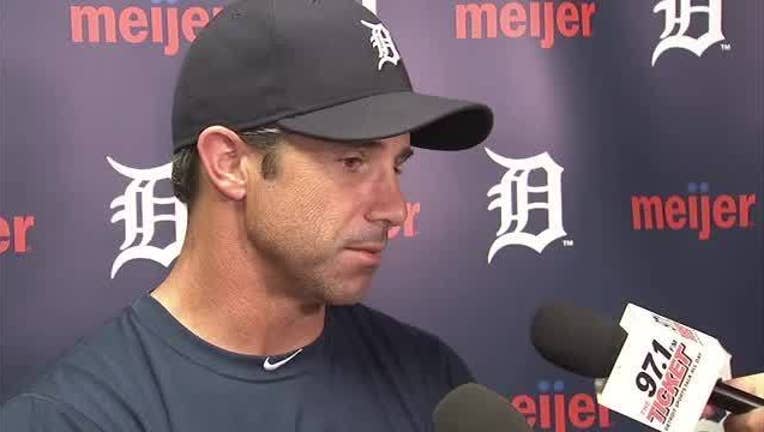 article
BOSTON (AP) - The Tigers expected they would need a lot of runs to keep pace with Boston's potent offense that underwhelmed in Detroit's series-opening victory.
What the Tigers didn't anticipate was being gifted the game-deciding run on a night when the margin of error was small for both teams.
Miguel Cabrera hit a two-run home run, Jarrod Saltalamacchia and Tyler Collins each had a pair of RBIs and the Tigers roughed up knuckleballer Steven Wright to beat the Red Sox 9-8 on Tuesday night.
With the game tied in the sixth, Collins drew a bases-loaded two-out walk, which allowed Justin Upton to score the decisive run.
Detroit and Boston combined for 22 hits as both starting pitchers struggled to string together outs throughout the evening.
"With all the offense from both sides, it's kind of ironic that a walk is the difference," Tigers manager Brad Ausmus said.
Saltalamacchia, a switch-hitter, had three hits after choosing to hit right handed against Wright. It was the first time he's hit from that side of the plate against a right-handed pitcher in his major league career.
"Not since Little League," he said with a chuckle.
Alex Wilson (1-0) got the victory, and Francisco Rodriguez closed for his 29th save. Detroit won the series opener 4-2 on Monday night.
David Ortiz had a three-run home run, but Boston's offense didn't have enough to offset a rare poor outing by Wright, who gave up nine hits and eight runs over 4 2/3 innings. Wright was leading the AL in ERA entering Tuesday.
"It's tough to keep asking the offense to keep carrying us like that," Wright said.
Robbie Ross Jr. (1-2) got the loss.
Detroit scored early for the second straight night, this time taking the lead on Cabrera's 20th homer of the season.
That was followed by RBI singles from Collins and Jose Iglesias in the second inning that made it 4-0.
Detroit starter Mike Pelfrey was solid the first time through the order but lost some of his early command the second time around.
It started in the third when Boston nearly erased Detroit's lead with one big swing by Ortiz. With Mookie Betts and Xander Bogaerts aboard, Ortiz connected on a 3-2 pitch from Pelfrey to drive his 25th of the season over the right-field wall.
The Red Sox took the lead back an inning later on an RBI groundout by Brock Holt and an RBI double by Betts.
The Tigers continued to get hits against Wright and went back up 8-5 thanks a four-run fifth inning.
Boston kept chipping away and used Jackie Bradley Jr.'s home run and RBIs by Dustin Pedroia and Bogaerts to tie it in the sixth.
TRAINER'S ROOM
Tigers: OF J.D. Martinez, who has been sidelined since June 17 (non-displaced right elbow fracture) began his rehab assignment with Triple-A Toledo on Tuesday night. ... LHP Daniel Norris (right oblique strain) will have his next rehab start in Double-A Erie on Thursday. He has been on the disabled list since July 5.
Red Sox: Manager John Farrell said LF/C Blake Swihart (left ankle sprain) is "ramping up activities" but because of some residual discomfort is not yet ready for a rehab assignment. The next seven to 10 days will be pivotal for him to determine his next step, Farrell said.
RARE COMPANY
With his 20th homer of the season, Cabrera joined Al Kaline and Norm Cash as the only three Tigers since 1913 with at least eight seasons of 20 or more.
PEDRO ON PRICE
Former Red Sox star and Hall of Famer Pedro Martinez knows firsthand the spotlight that comes with being the ace of a pitching staff. The MLB Network analyst made the rounds in the Red Sox clubhouse Tuesday and said he can empathize with what David Price is experiencing this year.
"It's his first year on a team that holds a lot of expectations," Martinez said. "To be honest, I think he's going be all right. It's just a matter of making adjustments and making them as quickly as possible."
UP NEXT
Tigers: RHP Michael Fulmer (9-2, 2.41 ERA) makes his 16th start of the year in Wednesday's series finale. It will be his first career start against the Red Sox. He is coming off a no-decision in his last start Friday against the White Sox, in which he surrendered five runs in five innings.
Red Sox: LHP Eduardo Rodriguez (2-4, 6.70) will make his third start since being recalled from the DL on July 16. He made his lone appearance against Detroit last season, allowing just one run and three hits over seven innings.