Tigers & Pirates split doubleheader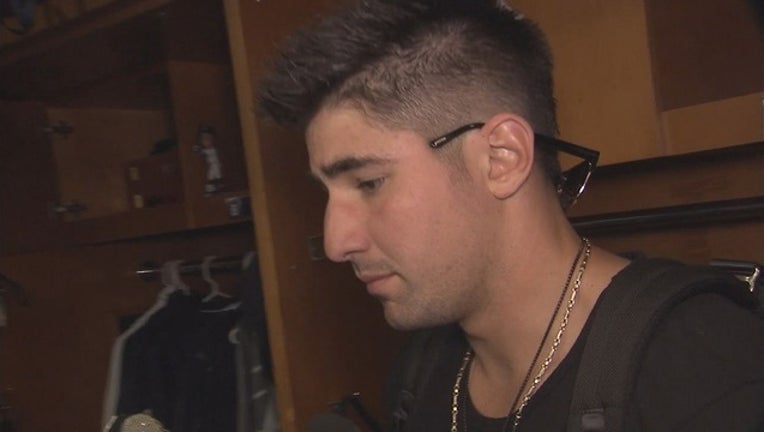 article
PITTSBURGH (AP) - Jose Osuna made the most of his brief stay with the Pittsburgh Pirates.
Osuna, called up from the minor leagues to serve as an extra player for the second game of a doubleheader, hit a three-run home run to lift the Pirates to an 8-3 victory Wednesday night and a split with the Detroit Tigers.
Major League Baseball rules allow teams to carry a 26th man in second games of twinbills, and the Pirates recalled the right-handed hitting Osuna from Triple-A Indianapolis to play right field against left-hander Matthew Boyd. Osuna opened the scoring with a shot to center field in the second inning.
"I think we did a pretty good job of leveraging that 26th man," Pittsburgh manager Clint Hurdle said with a smile. "Stuff like that never gets old, seeing someone come up from the minor leagues and hit a three-run home run on his first swing. That's always special."
In the first game, Nicholas Castellanos had four hits and a key home run, and the Tigers used 20 hits to outslug the Pirates 13-10. The teams combined for 34 hits, including four from Detroit slugger Miguel Cabrera and three from Jeimer Candelario.
Osuna made his major league debut last season and played in 104 games. However, the infielder/outfielder was the last cut in spring training.
"It feels good to help the team," Osuna said. "They wanted me to come up and help win a game and I feel like I did my job."
Osuna said it wouldn't be difficult to go back to the minor leagues after being the hero.
"I'll just go down there and be ready for when they need me again," he said. "That's all I can do."
Chad Kuhl (3-1) tied a career high with eight strikeouts in six innings in the second game. He allowed three runs, six hits and one walk in improving to 3-0 lifetime against Detroit.
The Pirates had lost seven of their previous eight games.
"As a pitcher, you want to go out and give a quality start when your team really needs it," Kuhl said. "It was a good win to come back and get the split."
Boyd (1-1) gave up four runs and seven hits in 3 2/3 innings. He had allowed just three runs in his first three starts and 19 1/3 innings.
Boyd was feeling ill earlier in the day but said that was not an excuse for his poor performance.
"I just got out of my game plan a little bit and just unfortunately, put my team in a hole with not going deep and whatnot," Boyd said.
Elias Diaz had three hits and Starling Marte drove in two runs for the Pirates.
Leonys Martin hit a two-run home run in the fifth inning to get the Tigers within 4-3. He also led off the opener with a homer.
After Osuna put the Pirates ahead 3-0, Candelario tripled and scored on Castellanos' single in the fourth. Pittsburgh got the run back in the bottom of the inning when Marte drew a bases-loaded walk, which ended Boyd's night.
Marte doubled in a run in the fifth to push the lead to 5-3. The Pirates added another run in the seventh and two in the eight to pull away.
Castellanos finished 1 for 4 in the nightcap after going 10 for 15 in his previous three games, including the opener.
FIRST GAME RECAP
Candelario homered, doubled and scored five runs for Detroit. James McCann also went deep.
Pittsburgh's Francisco Cervelli had three hits and a career-high six RBIs, including a three-run homer in the third inning. His two-run double in the eighth pulled the Pirates within 12-10.
Corey Dickerson also had three hits for Pittsburgh, and Moran homered.
Daniel Stumpf (1-0) retired all four batters he faced for his first major league win. Shane Greene pitched a 1-2-3 ninth for his fourth save in six opportunities.
Jameson Taillon (2-2) allowed seven runs and 10 hits in 3 2/3 innings.
MARTIN BOUNCES BACK
Martin homered in the first game two pitches after fouling a ball off his groin. He needed about five minutes to regroup before hitting a drive to straightaway center.
"I didn't think his voice could get any higher than it did," Tigers manager Ron Gardenhire cracked. "He wasn't feeling very good, but he wasn't coming out of the game. He expressed that to me, right from the start. 'Don't take me out. Don't even think about it. Just let me gather myself.' And that's what he did."
DOUBLEHEADER KINGS
The Tigers are the first team to play three doubleheaders before the end of April since the Baltimore Orioles and Chicago White Sox in 1982. They were swept at home by the Pirates on April 1 and split with the visiting Kansas City Royals last Friday.
26th MEN
While the Pirates called up Osuna, the Tigers added right-hander Artie Lewicki from Triple-A Toledo. Lewicki allowed two runs in one inning.
TRAINER'S ROOM
Pirates: RHP Joe Musgrove (strained right shoulder) threw a 38-pitch simulated game. He is likely to join one of the two Class A farm clubs next week to begin a rehab assignment.
UP NEXT
The three-game series concludes Wednesday afternoon as Detroit RHP Michael Fulmer (1-2, 3.47 ERA) faces RHP Ivan Nova (2-1, 4.20), who is 0-3 with a 6.56 ERA in seven career games against the Tigers.