Tigers release Francisco Rodriguez, recall Bruce Rondon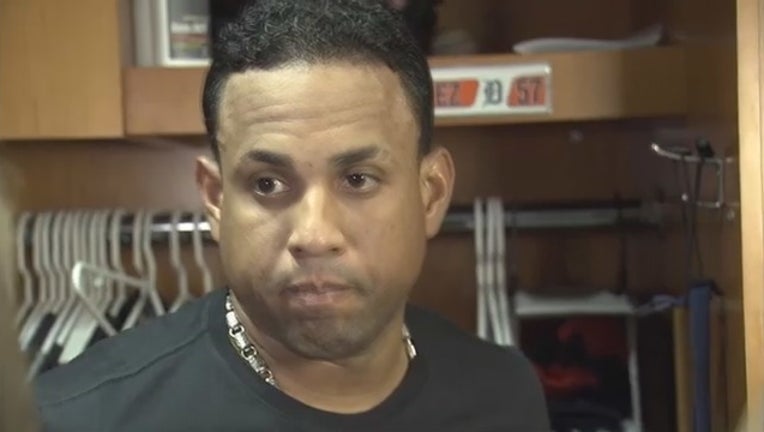 article
SAN DIEGO (AP) - Francisco Rodriguez was released Friday by the Detroit Tigers, one day after the 35-year-old reliever allowed a grand slam to Robinson Cano in his latest rough outing.
Rodriguez saved 44 games for the Tigers in 2016, but he is 2-5 with a 7.82 ERA this year. Detroit removed him from the closer role earlier this season, and now the right-hander's career is at another crossroads.
"It's never fun to tell guys you like, or good people, bad news," Tigers manager Brad Ausmus said. "Franky has had an extremely good career. He was as gracious and as professional as I would have expected."
Rodriguez is fourth on the career list with 437 saves and set the single-season record of 62 in 2008, when he was with the Los Angeles Angels. His future was in question after a shaky season in 2012 with Milwaukee, but he was able to rebound, reinventing himself by relying on his change up.
"He is a tremendous leader in the bullpen but it just wasn't working on the field," Ausmus said. "And quite frankly the reason we stuck with him is he is a good leader. He's a good guy to have on the team. He is a positive influence."
The Tigers traded for Rodriguez in November 2015, and although his strikeout numbers last year weren't great, he had a solid season, and Detroit exercised his $6 million option for 2017. The Tigers remain responsible for the remainder of that salary.
Detroit's bullpen woes have been a constant issue in recent years, and Rodriguez's decline in 2017 hasn't helped. Justin Wilson has taken over as the closer, but Detroit hasn't had enough depth in relief.
The Tigers had lost six in a row and were in last place in the AL Central heading into Friday night's game at San Diego. Rodriguez isn't the first pricey player they've simply released instead of keeping for the rest of the season. Reliever Mark Lowe - signed to an $11 million, two-year contract before last season - was cut in March. So was right-hander Mike Pelfrey, who was entering the second season of a $16 million, two-year deal.
Detroit announced Rodriguez's release on Twitter before Friday's game. The Tigers also put outfielder Alex Presley on the seven-day concussion disabled list, and they recalled reliever Bruce Rondon from Triple-A Toledo and purchased the contract of outfielder Matt den Dekker from Toledo.
Rodriguez came on in the seventh inning Thursday at Seattle, with Detroit trailing 5-3. He hit a batter and allowed a walk and two hits, including the grand slam by Cano that broke the game open. The Mariners won 9-6.