Van Gundy's future uncertain after Pistons miss playoffs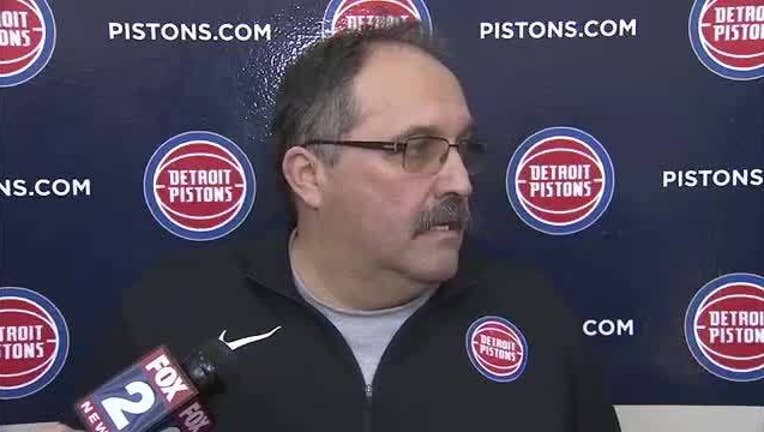 article
DETROIT (AP) - The Detroit Pistons can certainly attest to how long the NBA season is.
For two months, they looked like a team on the rise in the Eastern Conference during a 19-14 start that included victories at Golden State, Minnesota, Oklahoma City and Boston. Then an ankle injury to point guard Reggie Jackson derailed Detroit's season, and even a bold trade for Blake Griffin wasn't enough to push the Pistons to the playoffs.
Detroit's promising start now feels like a long time ago, and the big question for this offseason is the status of Stan Van Gundy, who has just one playoff appearance in four seasons as coach and president of basketball operations.
"I think we have to make changes," owner Tom Gores said earlier this week.
It's not clear if those changes will involve moving on from Van Gundy, who never had much of a chance to coach the Pistons at full strength after Jackson's ankle injury Dec. 26. He didn't come back until the latter half of March.
After faltering badly following Jackson's injury, the Pistons acquired Griffin in a blockbuster trade at the end of January. Detroit went on a brief run after that deal but quickly regressed and finished 39-43.
The Pistons have made the playoffs only once in the past nine seasons.
"Hopefully we can have a more healthy year next year," Jackson said.
Jackson has played only 97 games over the past two seasons, a big reason the Pistons have been unable to build on their playoff appearance in 2016.
LIMITED FLEXIBILITY
The Pistons now have Griffin and Andre Drummond locked into expensive deals, and they'll probably need to make that combination work because they sent the Los Angeles Clippers a protected first-round draft pick in the deal for Griffin. Although there are always health concerns with Griffin, his production wasn't an issue. He averaged 19.8 points, 6.6 rebounds and 6.2 assists in 25 games with Detroit.
YOUNGER OPTIONS
The first-round picks Detroit has had under Van Gundy have produced decidedly mixed results. Stanley Johnson can provide a boost defensively but is still limited at the offensive end, and Henry Ellenson played in only 38 games this season. Rookie Luke Kennard shot over 40 percent from 3-point range, but even that felt like a missed opportunity since he was taken one spot ahead of Donovan Mitchell in last year's draft.
BRIGHT SPOT
Drummond came into the season with a lot to prove, and he delivered with perhaps his best season as a pro. Not only did he improve his free throw shooting to a more respectable 60.5 percent, but he also averaged 15 points and a career-high 16 rebounds.
NEW ARENA
This was the team's first season at Little Caesars Arena in Detroit. A glaring number of empty seats early in the season indicated that the Pistons couldn't expect packed houses just because they were in a new venue, but the team hadn't been drawing well at its previous home either, and the move downtown could still pay dividends if Detroit wins a few more games.
VETERAN
Anthony Tolliver did an impressive job as a role player for the Pistons this season, shooting 44 percent from beyond the arc and averaging 8.9 points per game. He's carved out a decade-long career after going undrafted out of Creighton.