Verlander, Sale Duel Before Castellanos Lifts Tigers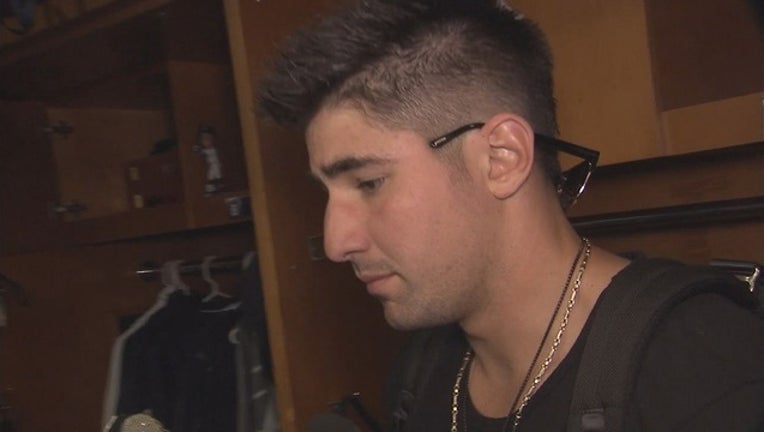 article
DETROIT (AP) - Chris Sale pitched a little longer than Justin Verlander in a matchup of ace pitchers, and it might've cost the Boston Red Sox a chance to split their series with the Detroit Tigers.
Nicholas Castellanos chased Sale with a two-out, go-ahead single in the eighth inning and Ian Kinsler homered in the sixth, lifting Detroit over Boston 2-1 on Monday.
"You've got Sale and Verlander going at it, you assume it's going to be a game like this," Tigers manager Brad Ausmus said. "And they didn't disappoint."
Verlander gave up only an unearned run, three hits and two walks while striking out four over seven innings. Justin Wilson (1-0) struck out one and walked one in the eighth and Francisco Rodriguez struck out two and allowed a hit in the ninth, earning his second save in three chances to help Detroit win the four-game series.
Sale (0-1) struck out 10 and gave up two runs and five hits over 7 2/3 innings in his second start. He stayed in the game after pitching seven strong innings because manager John Farrell thought he still looked sharp.
"He was still strong and still had quality stuff," Farrell said. "He pitched around Kinsler with the base open, which I thought he was managing the situation, and he had handled Castellanos the three previous at-bats. He hits one through the hole. He pitched a hell of a game."
As good as Verlander was, the Tigers and their fans were thrilled with the performance of a beleaguered bullpen. Earlier in the day, Detroit sent struggling right-hander Bruce Rondon to Triple-A and purchased the contract of righty Joe Jimenez. Rondon was once viewed as the future closer for Detroit, but the Tigers swapped him out for a 21-year-old Puerto Rican who has yet to pitch in the majors.
"The bullpen is in flux right now," Verlander said. "But I think that will get a lot better as guys settle into their roles."
The Comerica Park crowd groaned when Ausmus went to the mound with two outs in the seventh to visit Verlander. He kept the right-hander in the game, much to the delight of the fans, who cheered even louder when Leon, the next batter, popped out to end the inning. Verlander raised his glove in the air to acknowledge a standing ovation, and Ausmus was the first person to shake his hand near the bottom step in the dugout.
"I felt good about leaving him in, but he was over 100 pitches and he'd only been to 103 his last outing and it's only his second start of the season," Ausmus said. "So I wanted to make sure he was OK and still felt strong."
The Red Sox scored their only run in the second inning after Castellanos' fielding error loaded the bases with no outs.
Mitch Moreland led off the inning with a double and Pablo Sandoval followed with a walk. Chris Young hit a grounder toward Castellanos at third, and instead of potentially starting a double play, he couldn't field the ball cleanly. Brock Holt then hit into a double play, scoring Moreland, and Verlander got Sandy Leon to hit an inning-ending liner to Castellanos.
FLU FIGHTERS
The Red Sox have fumigated and disinfected their clubhouse at Fenway Park to help fight the flu, which has hit the team hard and led to Robbie Ross being on the disabled list and Hanley Ramirez playing just two games.
"You can sit here and try to find excuses all day long," Sale said.
Farrell said it has been done a few times while the team has been on the road.
TRAINER'S ROOM
Red Sox: OF Jackie Bradley Jr. is headed to the disabled list with an injured right knee and Farrell is hopeful he will only be out for 10 days. ... LHP David Price, on the DL with an elbow strain, had a 20-pitch bullpen before the game and may throw again Wednesday.
Tigers: Outfielder Justin Upton was scratched from the lineup with upper back tightness.
UP NEXT
Red Sox: Begin a six-game homestand Tuesday night against Baltimore.
Tigers: Host Minnesota on Tuesday afternoon in the first of a three-game series.