Southeast Michigan weather: What to expect with Friday's snow
SOUTHFIELD, Mich. (FOX 2) - Hope you got a chance to soak in that vitamin D from Thursday's sunshine because it's about to get cloudy and snowy on Friday with a slippery drive to work likely.
This feels a bit like Groundhog's Day. The end of the week is here and so is more winter weather. This follows a pattern that goes well beyond just last Friday. We looked back to the start of February and every Friday but one has brought winter weather.
February 3 was the coldest day of the month, February 10 was dry (the lone stand-out), February 17 was snowy and cold, February 24 was the ice storm, and March 3 we got around 6 inches of snow (and some got more). And, once again, Friday's bringing more snow.
But this one will be a touch different from last Friday's.
First off, the snow will be here much earlier than it was last week. We saw that snow system start just after lunch and really impact our drive home. This Friday's snow will be in a few hours earlier.
Track this Friday's snow with the FOX 2 Weather app. It's free and will alert you for what you need to know.
The snow will start after midnight after it pushes through the western half of Michigan. In fact, at midnight, our chance of snow is at 72% - meaning ¾ of us will be seeing snow. A few hours later, it will be 95%.
All night, as we're sleeping, snow will ramp up and, by the time we've all gotten up and had a cup of coffee, a couple of inches of snow will already be on the ground.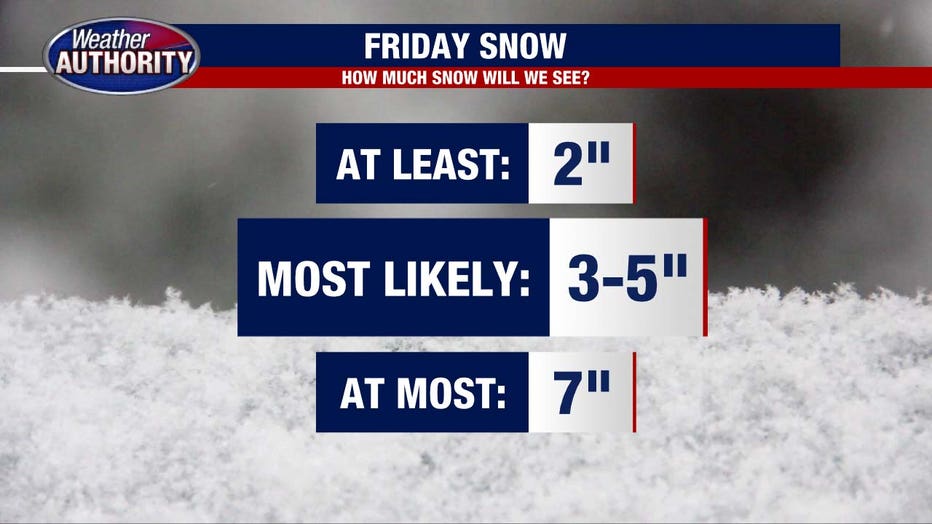 This will likely mean school closings. Check the school closings list here. 
The snow will be heaviest for those to the south and west - and will be less for St. Clair and Macomb counties. All told, we're looking at 6 inches in Detroit, and around 3 to 4 inches in Port Huron.
At least, we're looking at 2 inches, at most will be 7, but the most likely amount of snow will be between 3 and 5 inches.
Also, unlike last week, this doesn't melt away. We'll be pretty cool for the next week with temperatures barely getting above freezing and another chance of snow Sunday and Monday.