S.S. Kresge Co. 5 and 10 store at Woodward and Gratiot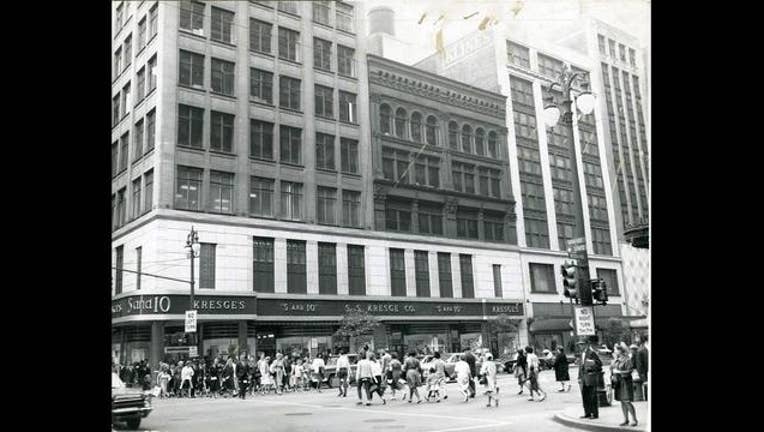 article
The year was 1962 and Sam Walton was getting prepared to open the first Wal-Mart in Bentonville, Arkansas. However, a Motor City store had beat him to the punch years before that.
S.S. Kresge Co. opened the first K-Mart on March 1, 1962, just four months before Walton opened his Five and Dime store.
This week's Throwback Thursday image is a photo of the store in 1965. The store started as a variety "dime store" in the early 1900's. and the first 2,000 square foot store was opened in 1962. This store is known as K-Mart and was the beginning of the nationwide chain.
The 5 and 10 predates all of that. Sebastian Spering Kresge opened his first store in 1899. Ten years later, he had 42 including the one above.
In 1917 the era of "dime" stores ended due to inflation because of World War I, this however didn't stop Kresge's brand. Kresge opened "green front" stores that sold items ranging from 25 cents to $1.00. In the same year, he purchased Mount Clemens Pottery Company, which under his leadership produced over 78 million distinctive pieces of dinnerware each year. By 1935 Kresge's had reached its peak with over 745 units in the Midwest and Eastern U.S.
Kresge's was the spot where Detroiters browsed top 40 records, got keys made, purchased bus passes, bought money orders, got passport photos and savored hot waffle ice cream sandwiches at the lunch counter. Yet by 1960 the Kresge brand faced declining profits and increased costs. Under the leadership of then president Harry B. Cunningham, the Kresge Co. opened the first K-mart store in 1962 in Garden City, MI. Kmart would go on to redefine the nationwide retail landscape, and its success eventually overshadowed the Kresge chain. By 1987 the remaining Kresge's store would be sold to the McCrory Corporation.
You may recognize the Kresge name. In 1924, he established the Kresge Foundatoin continues to award grants throughout the country to non-profits and arts organizations.
FOX 2 thanks the Detroit Historical Society for this and all of our Flashback Fridays. Click here for more information from the Detroit Historical Society.