11.7 million pounds of Tyson frozen chicken strips now under recall over metal fears, USDA says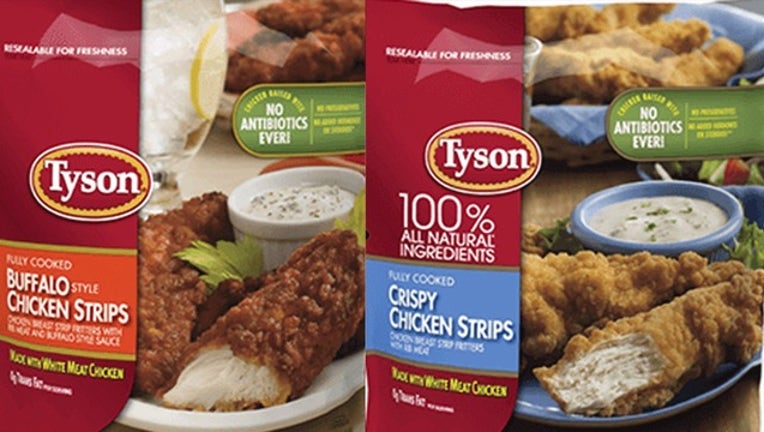 article
WASHINGTON (FOX 5 DC) - Tyson Foods has expanded a recall of frozen, ready-to-eat chicken strips from 69,000 pounds to 11,760,424 pounds of product because they may be contaminated with pieces of metal.
The U.S. Department of Agriculture's Food Safety and Inspection Service made the announcement about the expansion on Saturday. The original recall was issued on March 21.
Officials said the chicken strips were produced from Oct. 1, 2018, through March 8, 2019, and have "Use By Dates" of Oct. 1, 2019, through March 7, 2020. You can find the list of products, and their packing and labeling, here.
The products under the recall have "P-7221" written on the back of the product package. The products were sold nationwide.
The USDA said it received two complaints of extraneous material in the chicken strip products and has now learned of six more complaints during this time frame involving similar pieces of metal with three people alleging oral injury.
USDA officials said they're concerned that consumers may have the product in their freezers. Consumers are urged not to eat the products, but instead return them to the story where they were purchased or throw it away.
If you have any questions or concerns, you can contact Tyson Foods Consumer Relations at 1-866-886-8456.