2 arraigned for pulling gun on Troy Walmart worker, police chase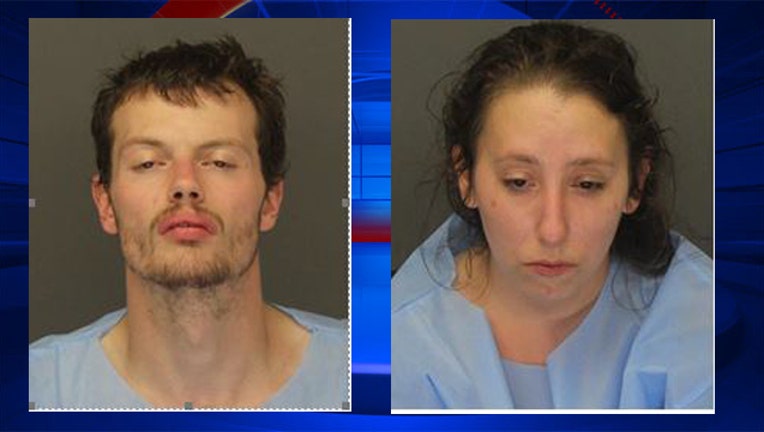 TROY, Mich. (WJBK) - A man and woman were arraigned on armed robbery charges at a Troy Walmart, leading to a police chase and home invasion.
Chay Ryan Beckett was arraigned on charges of armed robbery, flee and elude, home invasion and two counts of malicious destruction of police property in the incident, which police say happened at 4:30 p.m. Oct. 2.at the W. Maple location.
Christina Marie Vlaz was arraigned on a charge of armed robbery, which began when she and Beckett were trying to steal televisions at the store. When employees tried to stop them, Beckett allegedly pointed a gun at them.
When Troy police spotted them in the parking lot leaving, Beckett, who was driving, rammed one of the police vehicles and fled into Clawson. As Troy officers pursued Beckett, Vlaz jumped out of the car on Langley east of Crooks and ran. 
Officers attempted to block the suspects' car when Beckett pulled away and the car collided with a patrol car. Beckett continued to flee through the residential area. One of the officers again tried to stop Beckett by pulling in front of his car. Beckett slowed, left the car in drive and jumped out on foot. His vehicle collided with the patrol car.
Beckett then randomly entered a house on Bywood and ordered the female resident to turn over her car keys to him. Troy and Clawson officers surrounded the house. 
Officers were able to guide the resident to safely leave the home. Beckett then exited the house and was taken into custody without further incident.
 
The Royal Oak PD K9 responded to the area and located Vlaz hiding. Vlaz was taken into custody without further incident.
 
According to the Oakland County Sheriff's Office, Beckett is under investigation for possible involvement an armed robbery from Sept. 30 at 4:46 p.m. at a Walmart in Rochester Hills.
In that incident, the suspect attempted to steal several TVs from Walmart with a different accomplice. When approached by store employees, the suspect lifted his jacket exposing a black semi-automatic handgun which was tucked into his waist band.
 
Beckett and Vlaz are also under investigation for possible involvement in defrauding an innkeeper, also on September 30. At 10:30 a.m., the suspects reportedly ordered food from a Big Boy in Orion Township. When the food was delivered, the suspects reportedly got up with their plates of food in hand and left the restaurant without paying. 
 
The previous crimes in Rochester Hills and Orion Township are under investigation by the Oakland County Sheriff's Office.