2 in custody after Greektown brawl captured on video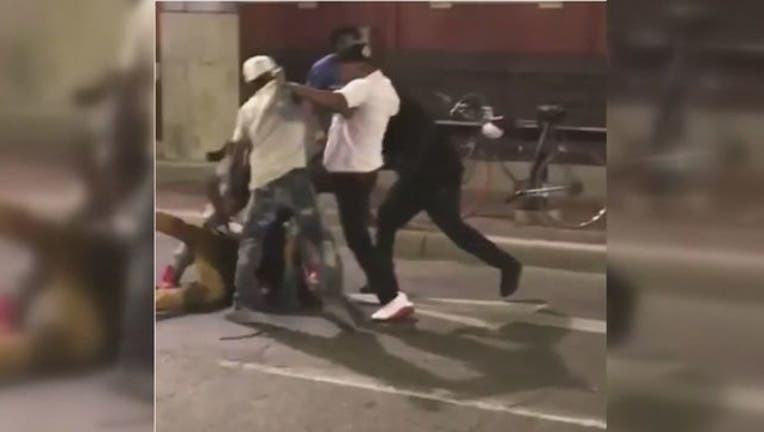 article
DETROIT (WJBK) - Detroit Police Chief James Craig says two people are in custody after a brawl in Greektown was captured on video over the weekend. Three people were seriously injured in the attack.
The video shows a group of men attacking guys on the street. Of the victims, 23-year-old Brandon Putnam suffered the worst injuries. He is the man seen lying on the ground, lifeless, while the video pans to show his cousins also being attacked.
Family tells FOX 2 Putnam was at the casino with his friends celebrating his birthday when the attack occurred. Putnam has a skull fracture and broken eye socket. Putnam's cousins were also injured.
Family of victim seen beaten in downtown Detroit in viral video speaks
The disturbing video was shared on Facebook and quickly went viral. Chief James Craig has said the video, along with multiple cameras outside Greektown Casino are leading police to the suspects.
Police say identifying the remaining suspects at large is only a matter of time. Their cars were parked in a garage, and police have photos of the cars and their license plates -- two registered in Canton, another is a rental.
"Just turn yourself in. We know who you are," Craig said during a news conference Tuesday afternoon. Authorities believe the remaining suspects are from Inkster. The two suspects already in custody have not yet been identified. 
Detroit police to Greektown beating suspects: We know who you are
Police haven't said yet what may have prompted the attack, and are disappointed that 911 calls didn't come in quicker.
"Instead of making a 911 call, you had people going live on Facebook with it. If you're videotaping, as far as I'm concerned, you're an actor in this," Craig said. "If the video footage can help us we support that, but you can't just sit back and watch a violent crime being committed and then do nothing."
Craig has said, though, that it's believed a gang is involved.
This is a developing story. Stay with FOX 2 for updates.
If you recognize any of the men in the suspect photos, or know anything about what happened during the attack, you're asked to call Detroit Police or Crime Stoppers at 1-800-SPEAK-UP.