2 shot on Belleville's Main Street; suspects in stolen vehicle flee police
BELLEVILLE, Mich. (FOX 2) - Suspects in a stolen vehicle shot two people while driving erratically on Main Street late Thursday, Belleville police say.
UPDATE: Charger crashes into Belleville building after suspects shoot up car
According to police, Van Buren Township police informed them of a possible stolen Jeep traveling in Belleville around 11 p.m. As an officer was responding, he saw the vehicle driving erratically north on Main Street. 
The officer pursued the stolen vehicle onto eastbound I-94. Both Belleville and Van Buren Township police chased the vehicle as it fled on the freeway. 
Then, officers learned about the two people shot on Main Street close to Egan's Pub. Officers responded to the scene, where bystanders were helping the man and woman who had been shot. The man is in critical but stable condition, and the woman is stable.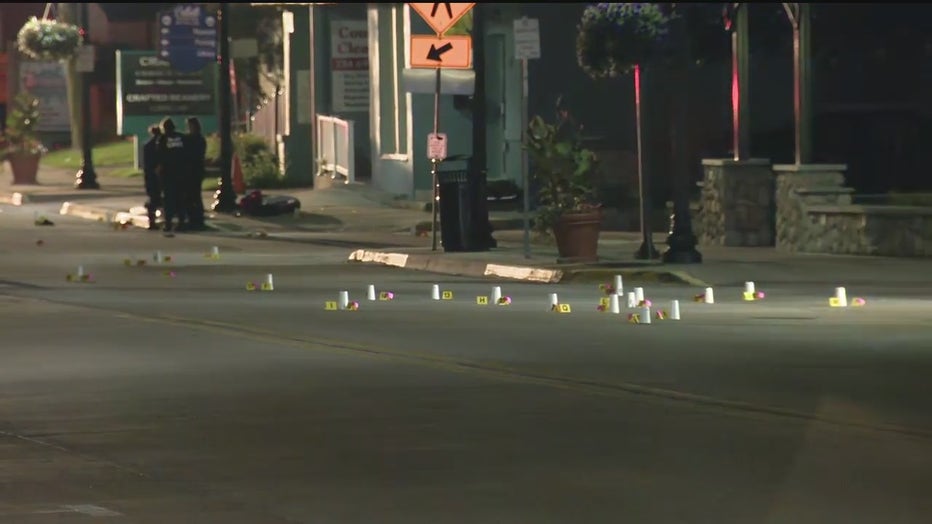 More than 30 shell casings and evidence markers littered Main Street on Friday morning.
Police said they believed the stolen vehicle was involved in the shooting, but did not say if the shooting was targeted or random. 
The suspects eventually crashed at Carlisle and Burton in Inkster. Van Buren Township police say three suspects fled from the crashed Jeep. Police are still looking for them.
Two of the suspects were armed, police said, and an AR-15 was found in the crashed vehicle.
Stay with FOX 2 for updates.