69-year-old man dies in Sterling Heights accident, vehicle catches on fire after collision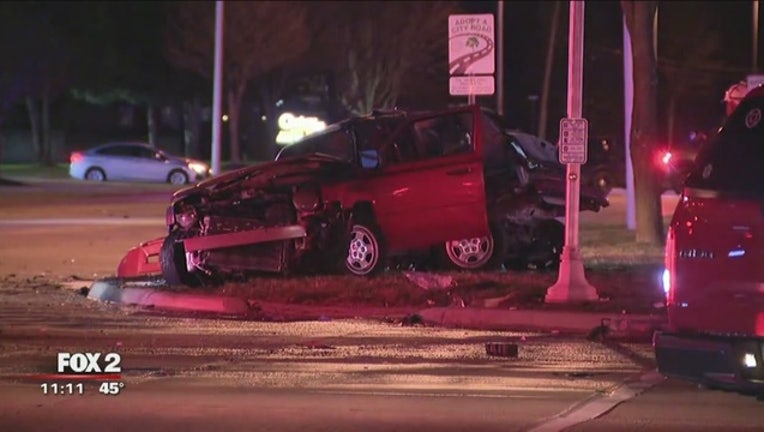 article
Sterling Heights, Mich. (FOX 2) - Sterling Heights Police were on location investigating a fatal accident that happened in the area of 18 Mile and Ryan Saturday evening around 7:40 p.m. 
Authorities say police and rescue personnel arrived and found two vehicles involved, a silver 2013 BMW and a red 2009 Jeep. The operator of the Jeep, a 69-year-old man from Sterling Heights, was suffering life-threatening injuries and was eventually transported to a local hospital, where he was later pronounced dead. 
The BMW had four occupants. Three were from Shelby Township, ages 16, 17 and 19, and one was a 17 year-old from Macomb Township. All of them were transported to the hospital and treated for non-life threatening injuries. 
The initial investigation revealed that the BMW was south on Ryan and the Jeep was north on Ryan, attempting to make a left turn on westbound 18 Mile.  The vehicles then collided in the intersection and the Jeep spun off onto the southwest corner, while the BMW continued south, and come to a stop after striking a tree in the southeast shopping plaza.
After the collision, the Jeep immediately caught on fire and several citizens attempted to render to aid. 
The cause of the crash is still under investigation, but police do not believe that drugs or alcohol played a factor. 
The entire intersection of 18 Mile and Ryan was closed for about six hours while the initial investigation was being completed. 
Anyone that may have witnessed the incident is asked to contact Officer Peterson of the Sterling Heights Traffic Safety Bureau at 586-446-2920. 
Stay with FOX 2 for updates.