911 transcript: Orlando gunman said he was Islamic soldier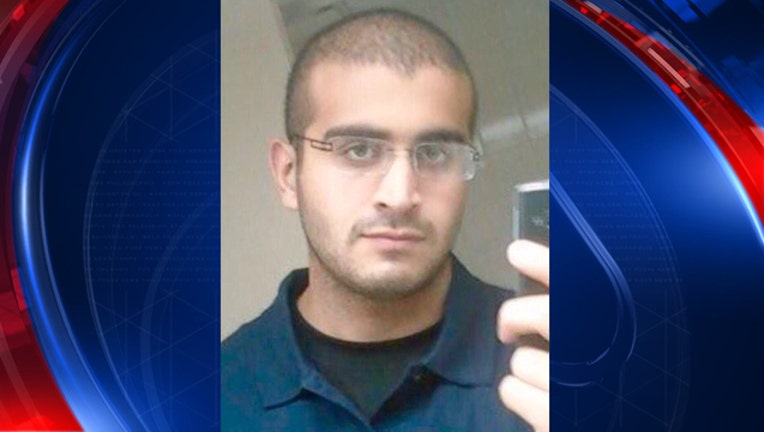 article
ORLANDO, Fla. (AP) - Orlando gunman Omar Mateen spoke in Arabic to a 911 dispatcher, identified himself an Islamic soldier and demanded to a crisis negotiator that the U.S. "stop bombing Syria and Iraq," according to transcripts released by the FBI on Monday.
The partial, printed transcript were of three conversations Mateen had with the police during the worst mass shooting in modern U.S. history, in which 49 people died and dozens were wounded.
Those communications, along with Facebook posts Mateen made before and after the shooting, add to the public understanding of the final hours of Mateen's life.
The first call came more than a half hour after shots rang out, when Mateen told a 911 operator, "Praise be to God, and prayers as well as peace be upon the prophet of God," he told the dispatcher, referring to God in Arabic.
"I let you know, I'm in Orlando and I did the shootings."
Mateen's name and the groups and people to whom he pledged allegiance were omitted from the excerpt. But the FBI has previously stated that he pledged allegiance to Abu Bakr al-Baghdadi, the leader of the Islamic State.
Shortly after the call, Mateen had three conversations with crisis negotiators in which he identified himself as an Islamic soldier and told a negotiator to tell America to stop bombing Syria and Iraq and that is why he was "out here right now," according to the excerpt.
The release came a day after tens of thousands of people held a candlelight vigil in the heart of downtown Orlando for the 49 victims who died. The victims also were remembered at church services and at makeshift memorials throughout Orlando.
"As a community, it's important that we gather together to show our support because only together can we move forward," said Gabrielle Claire, a musician and Universal Orlando worker who says she knew three Pulse victims who died. She was holding a "Hugs for Healing" sign at the vigil and numerous strangers came up to hug her.
"We don't have to be afraid of holding each other. We don't have to be afraid of saying to other people, 'I'm here for you,'" she said.
Meanwhile, hospital officials said four people remained in critical condition Monday morning, more than a week after they were wounded in the attack.
Orlando Regional Medical Center said 18 victims from the shooting were still at the hospital and three more surgeries were scheduled for Monday. The other 14 patients are listed in stable condition.
Armed with a semi-automatic weapon, Mateen went on a bloody rampage at the Pulse nightclub June 12. He died in a hail of gunfire after police stormed the venue.
Lynch told ABC's "This Week" on Sunday that the top goal while intensifying pressure on the Islamic State — the extremist group thought to have inspired Mateen — is to build a complete profile of him in order to help prevent another massacre like Orlando.
"As you can see from this investigation, we are going back and learning everything we can about this killer, about his contacts, people who may have known him or seen him. And we're trying to build that profile so that we can move forward," Lynch said.
Lynch will travel to Orlando on Tuesday to meet with investigators. She said that a key goal of the investigation was to determine why Mateen targeted the gay community. The victims were predominantly gay and Hispanic since it was "Latin night" at Pulse.
"We are hurting. We are exhausted, confused, and there is so much grief," said Larry Watchorn, a ministerial intern, during a sermon Sunday at Joy Metropolitan Community Church in Orlando, whose congregants are predominantly gay.
Florida Gov. Rick Scott described the attack as "devastating" while praying at the First Baptist Church of Orlando on Sunday. He said the gunman targeted "two very vulnerable populations."
"But here is the positive out of it ... people have come together," Scott said. "There are so many people who have done so many wonderful acts."
Around Orlando, people left balloons, flowers, pictures and posters at a makeshift memorial in front of the city's new performing arts center and at Orlando Regional Medical Center where 49 white crosses were emblazoned with red hearts and the names of the victims.
The crosses were built by a Chicago carpenter with a history of constructing crosses for victims of mass shootings. Greg Zanis drove from Illinois to Orlando last week and installed the crosses at the medical center, where many of the 53 shooting victims who survived were taken for treatment.
A rainbow appeared over Lake Eola Park Sunday evening as tens of thousands of people turned out for an evening vigil to honor the victims of the shooting. The park was filled with people holding white flowers, American flags and candles.
Dr. Khurshid Ahmed was part of a group of Muslim-Americans at the vigil who held signs reading, "Muslims Condemn Extremism." Investigators have said Mateen reportedly pledged allegiance to the Islamic State group, and a letter from the chairman of the Senate Homeland Security Committee, Republican Ron Johnson of Wisconsin, said Mateen wrote on Facebook that "real Muslims will never accept the filthy ways of the West."
___
Alex Sanz in Orlando contributed to this report
.