Adaptive yoga at DMC helps disabled overcome their injuries
DETROIT (FOX 2) - What is different about adaptive yoga is that each exercise and pose is tailored to the needs of each individual.
Take Alonzo White, for example. He was always on the go, but in 2013 everything changed. He was hit by a car while changing a tire and was forced to have both of his legs amputated.
"Just coming here [to adaptive yoga] honestly helped a whole lot," he said. "If it wasn't for this place, I don't know where I'd be."
A couple of years ago, Jorge Fuentes was hit while riding his motorcycle. A spinal cord injury left him paralyzed from the neck down. He hopes to walk again one day.
"I am working toward it, I am not saying yes - I put it all in God's hands and it is what it is, I have to put all my hard work into it," he said.
Both Jorge and Alonzo are learning to overcome their injuries through adaptive yoga at the DMC Rehabilitation Institute of Michigan in Detroit.
"It helps our people heal from an injury, helps them relax, helps coping skills, adjustment skills and breathing," said Rebecca Reibel.
Reibel teaches the adaptive yoga classes that are geared toward people with illnesses and injuries. 
"We work with them in a group setting, everyone does the same posture we just work a little bit slower," she said. "We take our time to use props and set people up so their poses are safe and they get the most benefit out of it."
"I was thinking like a guy would think, 'That won't do anything, that is some women's stuff.' But it is a lot harder than you think, just stretching and holding that pose," he said.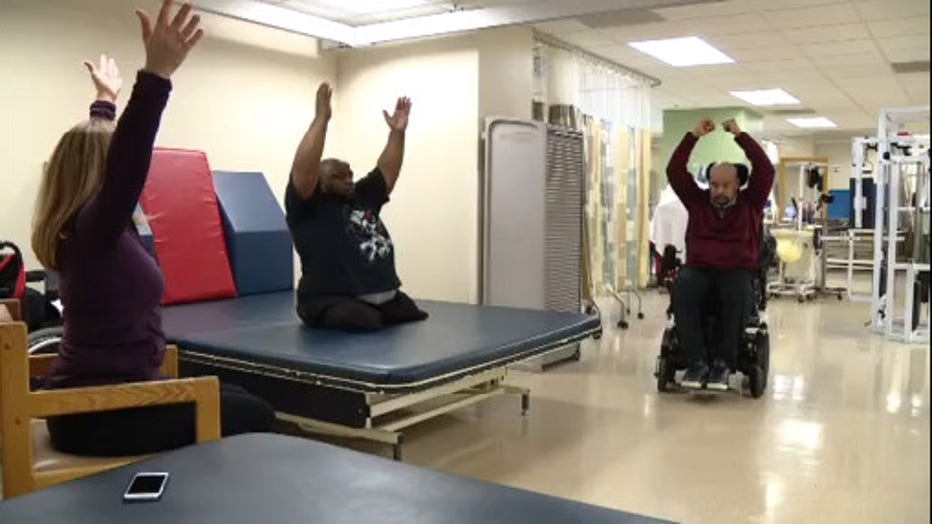 White has felt the difference when it comes to moving his upper body - but didn't expect yoga to impact his mind and spirit.
"I like it a lot, it keeps me calm, I go home and I feel at ease," he said.
Because of adaptive, Fuentes has made huge strides in a matter of months. Although he is paralyzed he is slowly getting sensation back in his legs.
"I can't walk but doing yoga and all my therapy, I do allow sensation in my legs, I can move my legs now, and I am able to kick out and pull in," he said.
And that has given him hope that one day he won't just walk again, but run in his first race.
"I want to walk again and if I do walk again next year I want to run a 5k," Fuentes said. "(With) whoever wants to join me.": 
Classes are held every Monday from 5:30 to 6:30 p.m. and it is free and open to everyone.
For more information, call (888) DMC-2500.