AG Nessel, others call out Rashida Tlaib's 'From the river to the sea' comments on Israel-Hamas war
FOX 2 (WJBK) - State Senator Jeremy Moss and Attorney General Dana Nessel - both Jewish - are calling out US Congresswoman Rashida Tlaib's recent social media posts about the Israel and Palestine conflict.
Moss and Nessel are asking Tlaib, a Palestinian American, to take down her posts calling for a ceasefire, which include what they call an anti-Semitic rallying cry for Hamas.
"('From the river to the sea') is a phrase that has been used by those who want to kill, maim, harm, destroy - Jews," said Moss, (D-Southfield). "The phrase has been co-opted as a battle cry for those who want to eradicate Jews who live in Israel from the Jordan River to the Mediterranean Sea."
"Those words are anti-Semitic to us," said Nessel. "And that's why we've asked her to stop using that kind of language. It's still painful - it still hurts us - and we're still asking her to stop."
Both Moss and Nessel and US Congresswoman Elissa Slotkin (D-7th District) took to Twitter over the weekend calling on Tlaib (D-12th District) to delete the posts.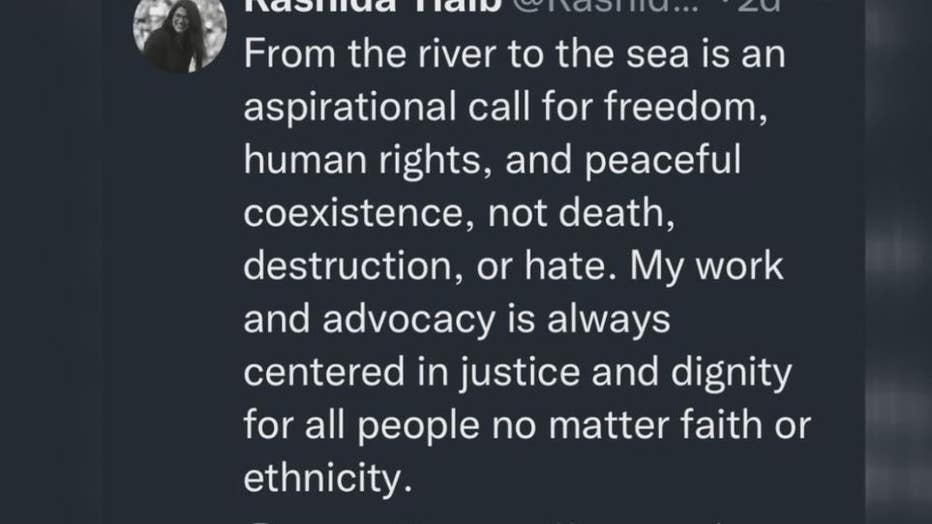 Tlaib posted "From the river to the sea is an aspirational call for freedom, human rights and peaceful coexistence not death, destruction and hate."
"This is just who Rashida is - love her or hate her - she believes what she believes, but it doesn't make it always right," Nessel said. "And sometimes you have to call people out publicly,"
Tlaib's office released a statement Monday saying 71 percent of Michigan Democrats support a ceasefire in Palestine and that her colleagues are more focused on silencing her than they are on ending the horrific attacks on civilians in Gaza and the West Bank.
As for the congresswoman's call for a ceasefire, both the attorney general and senator moss were asked if they support that.
"What would a ceasefire achieve?" Moss said. "Hamas would still be there - unchecked - and these hostages would not be released."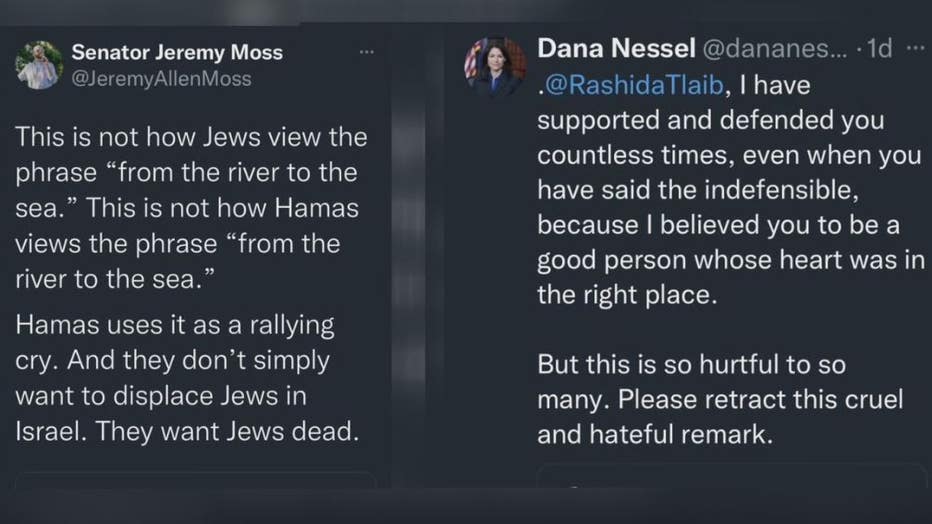 Roughly 200 people are being held hostage by Hamas - including Americans - all after Hamas attacked and murdered 1,400 Israelis on Oct. 7th. Since then, 10,000 people have been killed in Gaza - including 4,000 children.
Here is a link to the poll from Lake Research Partners that Tlaib referred to, and read her complete statement at the bottom of this story.
Nessel said she wasn't privy to State Department information regarding a ceasefire there - but said Tlaib's rhetoric could lead to hate crimes here.
"To me, it leads to more hate, and it leads to more violence," she said. "And we don't need that overseas, and we don't need that here in Michigan."
Tlaib's statement:
"It's a shame my colleagues are more focused on silencing me than they are on saving lives, as the death toll in Gaza surpasses 10,000. Many of them have shown me that Palestinian lives simply do not matter to them, but I still do not police their rhetoric or actions. Rather than acknowledge the voice and perspective of the only Palestinian American in Congress, my colleagues have resorted to distorting my positions in resolutions filled with obvious lies. I have repeatedly denounced the horrific targeting and killing of civilians by Hamas and the Israeli government, and have mourned the Israeli and Palestinian lives lost.
"Meanwhile, each day that passes without a ceasefire brings more death and destruction upon innocent civilians, who have nowhere safe to go, drawing outrage and condemnation from the American people and the international community. A majority of Americans support a ceasefire, but this Congress isn't listening to their voices. I will continue to call for a mutual ceasefire, for the release of hostages and those arbitrarily detained, for the immediate delivery of humanitarian aid, and for every American to be brought home. I will continue to work for a just and lasting peace that upholds the human rights and dignity of all people, centers peaceful coexistence between Israelis and Palestinians, and ensures that no person, no child has to suffer or live in fear of violence."