Bad pool builder - and his attorney - are in over their head
FOX 2 (WJBK) - A Macomb County pool builder who faces felony charges for taking money and not doing the work was in court this week.
    
The guy Rob Wolchek put in the Hall of Shame didn't really have anything to say, but his lawyer did.
Rob gets it, lawyers want to protect their clients - but this lawyer decided he was going to take on Wolchek. In this case, the client and his attorney may have something in common which Rob unfortunately had to ask the attorney about.
Brandon Heitmann's head must be swimming with thoughts as he leaves court. Too bad some of Brandon's clients aren't swimming. Brandon is accused of taking money to build pools, but instead left them high and dry.
And while this self-dubbed million-dollar pool contractor is probably expecting to get splashed, Wolchek is also going to dunk his lawyer.
Wolchek: "Are you Glenn Phillip Franklin, counselor? Because if that's you, you also have felony charges against you, don't you?"
This week was the prelimary exam for the State of Michigan vs. Brandon Heitmann. Brandon is in court, looking good in his big boy suit. His family is in the court as well, although they're not really sitting with him. Now, Brandon nervously awaits in the defendant's seat. Shelby Township District Judge Douglas Shepard takes the bench.
"Good afternoon your honor. Glenn Franklin appearing on behalf of Brandon Heitmann who appears on my left," his attorney said.
Yeah, that's Brandon's lawyer, Glenn Franklin.  He and Heitmann may have something unusual in common - but first, let me tell you how we got here.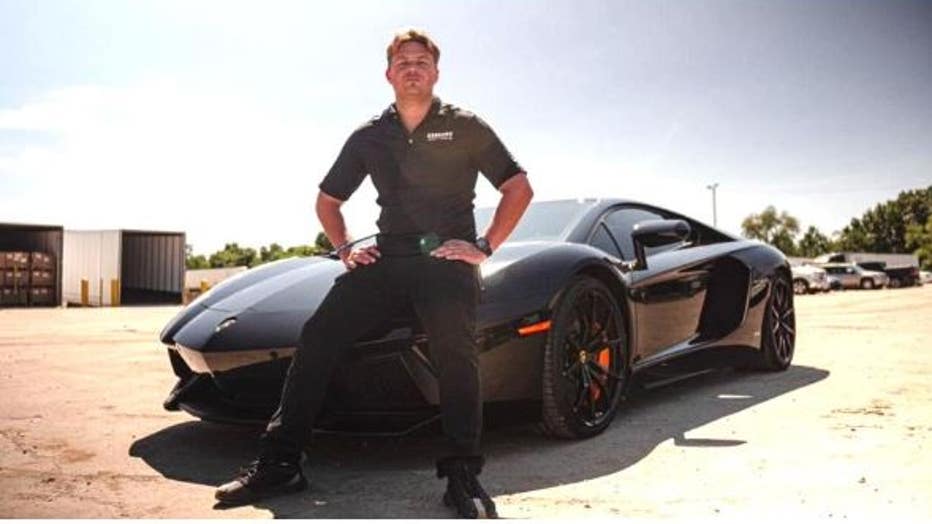 In August, Wolchek introduced you to Brandon Heitmann in his Hall of Shame investigation.
Brandon was a big-time internet influencer, portraying himself as a successful contractor. This 30-year-old phenom was a mentor to other contractors and ran something called the "Heitman Academy" where you could pay to learn how to be a super success.
Brandon made his alleged fortune running a company called Exigent.  But it turned out, the million-dollar contractor didn't even have a contractor's license - at least not until March of this year. But before that, he'd put in a bunch of pools that were disasters.
"Our pool is essentially garbage. It needs to be torn out and started from scratch," Becca told us.
Becca and Alex gave Exigent more than $100,000 for their pool which they say is sinking, put in crooked, and not even level.
This is DN's pool. It won't pass code so it's sat in this state for two summers.  She says she gave Exigent $122,000 but Brandon wants more money to fix his mistakes.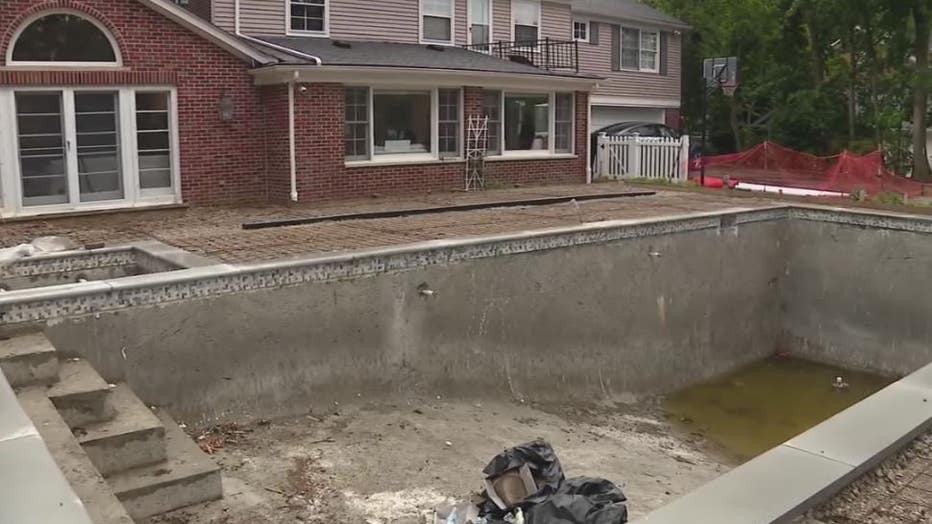 "I'm not the bank.  We've paid you for this and he started crying," she said.
Yeah, the crybaby contractor.
"He started crying," said Angela.
Bawling Brandon got real sad when Angela and Joe asked what happened to the $60,000 they gave Exigent for their pool - a pool they never got.
"What have you bought with my money?" Joe said.
Wolchek: "And what did he say?"
"'I don't have it,'"Joe said.
More: Bad pool builder dives in, hits rock bottom
Brandon's business wasn't at the address listed on company papers. Instead, Rob found him at a workyard in Shelby.
Wolchek: "Brandon, what's going on with your business?"
Brandon: "Talk to my attorney."
Wolchek: "I want to talk to you."
Brandon: "Great offer."
Wolchek: "What's going on with your business? You're a talkative guy. I've seen your videos."
Brandon: "Thank you."
Wolchek: "How's the Heitmann Academy going?  Why don't you give back the money to Joe and Angela."
He was charged with felony taking money under false pretenses over $50,000 and felony fraudulent use of the builder's contract fund.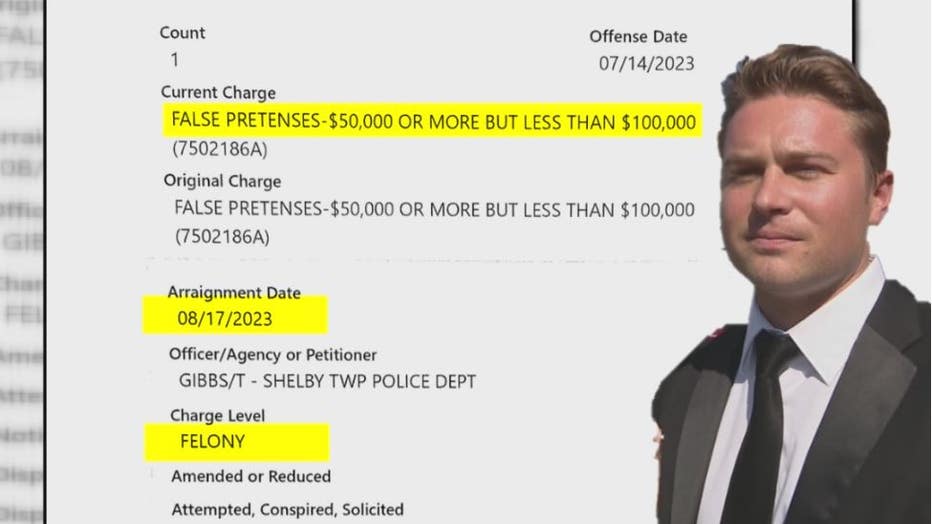 After Rob's story aired, Brandon was charged with a third felony, another false pretenses charge, over $50,000.
He's pleaded not guilty. Exigent filed for bankruptcy in August.
Now back to the present. Angela and Joe were there to testify against Heitmann, but the case is adjourned until next month.
Outside, Wolchek was interested in talking to Brandon and his attorney because Mr. Franklin went on YouTube claiming Rob ignored his calls.
Wolchek: "Hey Brandon. What have you got to say?"
Franklin: "He's got nothing to say."
Wolchek: "What's your defense going to be?"
Franklin "We have no comment except the last time you spoke with him, he asked you to call me, I called you two, three times."
Wolchek: "No you didn't."
Franklin: "I did. I have my phone records."
Wolchek: "Okay. You show me that. What number did you call me at? What number did you call me at? I saw you on some little YouTube thing."
Franklin:"Whatever number was on your card. I got my phone records."
Wolchek: "Well you show me that because I don't believe you. So Brandon what's your defense going to be?"
Franklin: "C'mon let's go."
Brandon doesn't say a word as his wife and lawyer lead him to his truck.

Wolchek: "So you're filing for bankruptcy. You've got other charges too, right.?"
Franklin: "Wait. Are you saying Brandon is filing for bankruptcy?"
Wolchek: "His company. His company filed for bankruptcy."
Franklin: "Well be careful what you're saying."
Okay, Perry Mason. You're messing with the wrong reporter.
Wolchek: "Are you Glenn Phillip Franklin, counselor?  Because if that's you, you also have felony charges against you don't you? "
It just so happens Rob Wolchek has a federal indictment and look who's named as a defendant in this fraud case - attorney Glenn Phillip Franklin.  
Let Rob read from the case: "Auto Accident Attorneys, PLLC, was a professional limited liability company operating as a law firm from a business location in Southfield, Michigan. Auto Accident Attorneys was controlled and operated by defendants Glenn Phillip Franklin and Brent Farouk Sitto."
The case involves alleged illegal selling of info regarding Detroit auto crash reports where several profited. The case goes to a jury trial later this month.
Charged with conspiracy to commit wire fraud - it reads "Glenn Phillip Franklin" and others "Intentionally, unlawfully, and knowingly did combine, conspire, confederate and agree between and among themselves to devise a scheme and artifice to defraud and obtain money and property."
Wolchek "Is that you counselor?  Here's my card so you can make sure you can contact me. Here's my phone number. Is that you Mr. Franklin? Right there?  Who also has felony charges?
"Move over Brandon. You may have some company in the Hhhhhall of Shame!"