Bad pool builder dives in, hits rock bottom
FOX 2 (WJBK) - Brandon Heitmann claims he's a millionaire contractor, internet personality, and pool builder who has made a fortune after growing "from mowing lawns for $20 to $1 million projects."
The 30-year-old entrepreneur says he's so successful, he's a mentor to other contractors around the nation. He has a website for others, The Heitmann Academy, to teach other contractors how to be like him and fly in private jets and visit exotic places – all while building pools.
So we took a dive into his masterpieces, including an unfinished gunite pool which was supposed to be done more than a year ago. It's got a 10-foot deep end and hardly any shallow end, and it's design is so unique it won't even pass code.
"For sure he doesn't know what he's doing," Dr. Nancy, the owner of the pool, said.
Then there's the fiberglass pool that gets deeper every day - because the owners say it's sagging in the middle and sinking.
"Our pool is essentially garbage. It needs to be torn out and started from scratch," Becca told us.
We found another pool … wait. No, we didn't. Joe and Angela paid Heitmann $60,000, but there's no pool here.
"Everything that he told us was a lie," Angela said.
Heitmann's a special businessman, crybaby contractor, and a high-living huckster. It's sink or whim with Brandon Heitmann.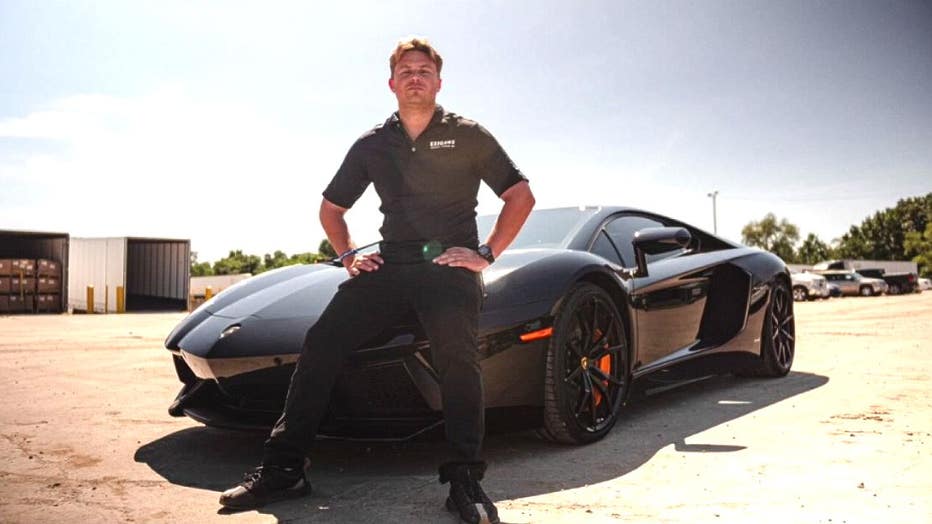 "You need to be willing to go outside the comfort zone," Heitmann says in one of his videos.
He's getting out of his comfort zone after he was arrested for a job that never got done.
Becca's pool was supposed to be fiberglass and it definitely isn't supposed to sink. She and Alex paid Heitmann's company, Exigent Design and Build, more than $100,000 to install it. But they said the pool was put in crooked, under stress, and won't pass inspection.
"The way someone explained it to me is to take a Rubbermaid tote that you use downstairs for storage and turn it, twist it, lock it in concrete, and fill it with water.  There's going to be an extreme amount of tension on every part of that Rubbermaid tote," Becca said.
Heitmann was too busy making videos promoting himself to help them and Becca and Alex found out the guy who was 'teaching' others how to be a successful contractor - wasn't even a licensed contractor himself. Heitmann never got his builder's license until March of this year.
"I pulled the permits," Becca said. "That's when I discovered they were unlicensed."
The permits were pulled by someone named Henry Bell, a licensed contractor the couple say they've never met. The couple said he never stepped on their property and doesn't work for Exigent.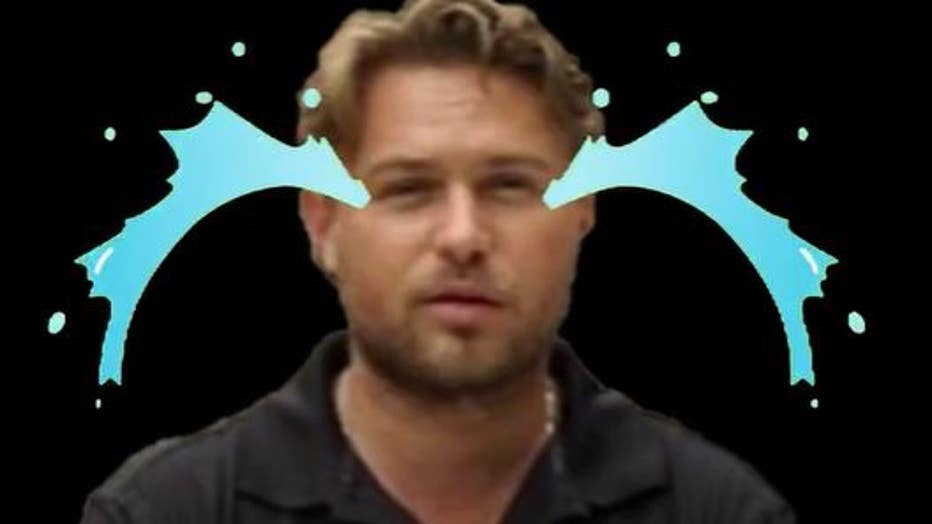 Alex put together this website to document how terrible their experience has been. But instead of Brandon coming out to help them fix their pool, he sued them for defamation!
As for Dr. Nancy, who we mentioned earlier in the story, she says she's humiliated by how badly she was heisted by Heitmann. Her permits were also pulled by the mysterious Bell and not by Brandon. 
"I asked him specifically if he had a license he said yes," Dr. Nancy said.
In her backyard, pipes are cemented in that are too small, the pool is dangerously deep, and the elevation is off.
"To date, I've paid him $122,000," Dr. Nancy said.
It's been like this for two summers.
She told Heitmann she's had enough, but he said he didn't have enough money to bring it up to code.
"I'm not the bank. We've paid you and he started crying saying he's really in a tough spot," Dr. Nancy said.
Joe and Angela said he tried the crybaby contractor act on them as well after paying him $60,000 for a pool that was supposed to be done in April. The only thing they have to show is a ridiculous-looking diagram of a pool built into the side of a hill next to their house. 
But Joe and Angela were no strangers to Heitmann, they're friends and were at one of Brandon's wedding parties. 
So when the pool wasn't done, Joe had a simple question.
"What did you buy with my money?" Joe said. "(He said) I don't have it."
Heitmann did have lots of fancy stuff including a new house in Macomb and a Lamborghini according to Secretary of State records. 
Now Heitmann has to dodge some judgments. Dany Batti is an attorney who has a judgment against him.
"The court is ordering Mr. Heitmann and his company to pay the x amount of dollars that was at issue," Batti said.
So far, nothing has been paid.
"He gave him the full $81,000," Batti said about his client.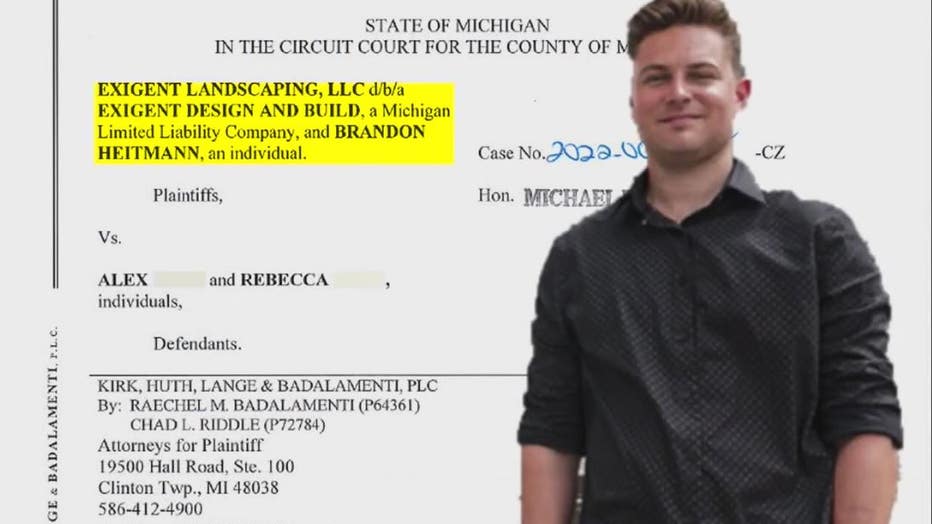 There was a similar agreement with a guy named Mark Shamaya. Heitmann agreed to pay back $67,000 for a pool that was never even started. His solution was to make more videos to try to get new customers.
That must have worked because, just two weeks ago, a Grosse Pointe couple said they gave him $75,000 for a pool that they still don't have.
Little did they know, Exigent was filing for bankruptcy, which happened last week – one week after Heitmann was arrested. The pool boy was charged with two felonies: Taking more than $50,000 under false pretenses and fraudulent use of the builder's contract fund. He paid a $30,000 cash bond to get out of jail. 
When he drew up the contracts on the pools, Heitmann didn't even have a contractor's license, and they were pulled by Henry Bell.
We tried to talk to him and left cards and asked for Bell. But no luck. So where is Heitmann? We went to the website listed on their address but they hadn't been there for years.
Heitmann was finally tracked down at a work yard on 23 Mile Road in Shelby where he was pacing around and talking on the phone – possibly mentoring a student from the Heitmann Academy?
We tried to talk to him but he walked into the office and locked the door before he ran to his car.
Rob:"Can I talk to you about your business."
Heitmann: "You can talk to my attorney."  
That was about all we got out of him - talk to my attorney.
There's only one thing left to do. Dunk the pool boy into The Hhhhhallll of Shame!