Best campground in America found in Michigan
(FOX 2) - The best campground in America isn't on top of the Rockies or deep in the Alaskan forest. Instead, it's here in Michigan.
Many who make the trek up north have likely passed it. Indian River RV Resort is just off I-75, nuzzled between Burt and Mullett Lake.
And according to Campspot.com, it's the best campground in the U.S.
The northern Michigan spot is "surrounded by mature trees, offering shaded sites with the comfort of modern amenities," read the website. 
The park comes fully outfitted for any variety or degree of fun. Blessed with a feel of both rustic isolation and comfortable modernity, the campground offers everything in between.
It beat out campgrounds all around the U.S., outranking spots in Maine, Montana, and Missouri. Some spots were perfect for star gazing while others provided beach side access. To get the most bang for your buck, Indian River is where it's at. 
MORE: Beavers reclaiming land on abandoned island in Detroit River
It has both Recreational Vehicle and tent spots. There's distance to different water sport and fishing areas for outside fun, as wells an unground heated pool and spots for basketball and volleyball.
The campground is also near dozens of the most iconic spots of northern Michigan. Trips to multiple Great Lakes are easy to make, as are ventures to the bucolic cities that are located alongside them. 
A bit further north is the Mackinac Bridge and Tahquamenon Falls. 
Indian River RV Resort - Indian River, MI
On the Saco Family Campground - Brownfield, ME
The Nugget RV Resort - Saint Regis, MT
Otahki Lake Cabins & Campground - Patterson, MO
Stonebridge RV Resort - Maggie Valley, NC
Dark Sky RV Campground - Kanab, UT
Pecan Park - Jacksonville, FL
Kootenai River Campground - Troy, MT
Okefenokee Pastimes Cabins & Campground - Folkston, GA
Yogi Bear's Jellystone Park Camp-resort: Memphis - Horn Lake, MS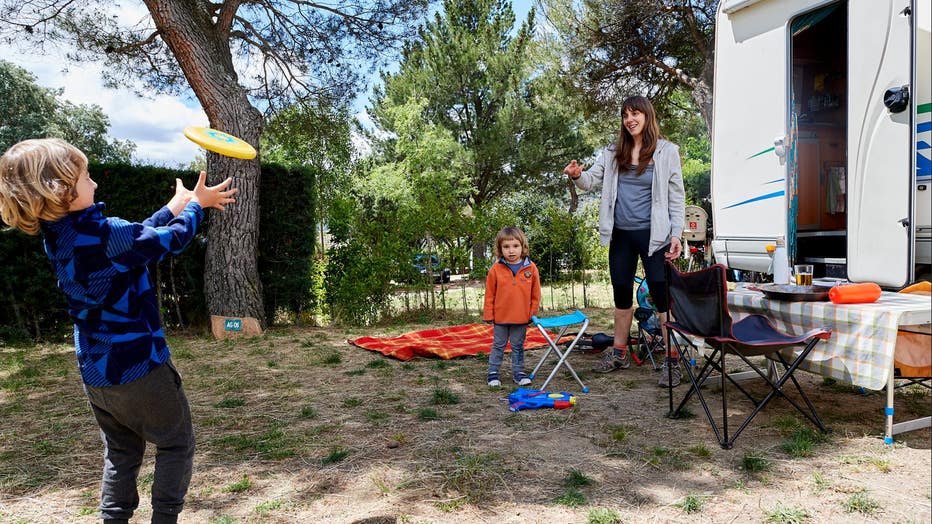 GARGANTILLA DE LOZOYA, SPAIN - JUNE 13: A family enjoys a weekend with their motorhome at the Monte Holiday campsite on June 13, 2020 in Gargantilla de Lozoya y Pinilla de Buitrago, Spain. The campsite, which had to close during the country's months-