Budweiser Clydesdales will no longer shorten their tails, company says
The iconic Budweiser Clydesdales will no longer have their tails shortened using a common, yet controversial, procedure that has drawn the ire of animal activists, parent company Anheuser-Busch InBev announced Wednesday.
The brewer said in a statement that the change was made earlier this year, stressing that the safety of the horses was a "top priority." The statement coincided with an announcement that it had obtained an animal welfare certification for the horses, as well as the dalmatians that serve as their companions.
The People for the Ethical Treatment of Animals, or PETA, led protests and mounted a nationwide ad campaign, with billboards depicting the horses reading "Severed Tails: Cruelty to Clydesdales." With the announcement that tail-docking has ceased, PETA is "cracking open some cold ones to celebrate," Senior Vice President Kathy Guillermo said in a news release.
The Clydesdales, mainstays in commercials and parades, were first introduced in 1933 after Prohibition was repealed. They can be viewed at Grant's Farm, a St. Louis attraction initially built by former President and Civil War general Ulysses S. Grant.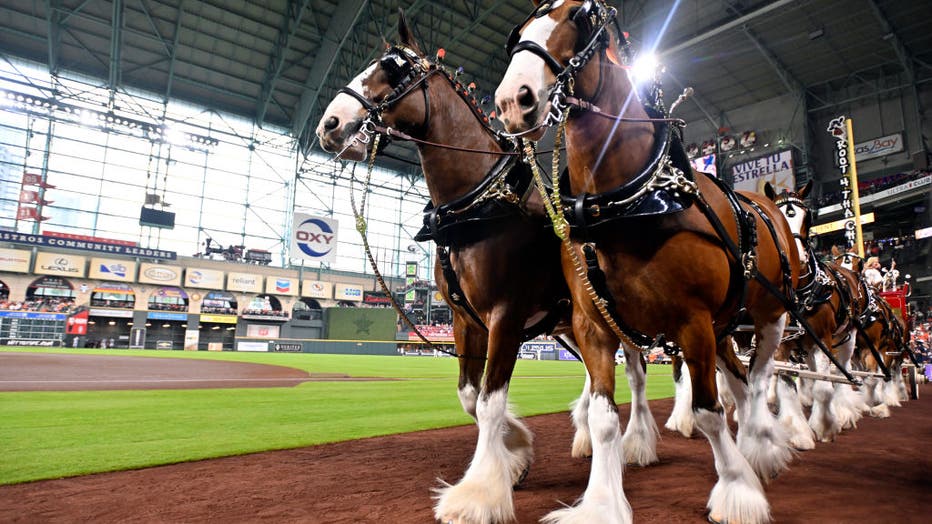 HOUSTON, TX - MARCH 30: The Budweiser Clydesdales are seen on field before the game between the Chicago White Sox and the Houston Astros at Minute Maid Park on Thursday, March 30, 2023 in Houston, Texas. (Photo by Logan Riely/MLB Photos via Getty Ima
Large draft horses like Clydesdales, Shires, and Percherons frequently have the boney part of their tails amputated to a length of about 6 inches (15.24 centimeters). The process is called docking and often is performed on foals using a special constricting band, the American Veterinary Medical Association explained on its website.
The purpose is to prevent the tail from interfering with the harness and carriage. But opponents argue it is unnecessary, and the practice is now banned in several countries, including Belgium and Finland, as well as some U.S. states.
The tail-docking blowup is just the latest controversy to embroil the company. Earlier this year, critics who were angered by the brewer sending a commemorative Bud Light can to transgender influencer Dylan Mulvaney vowed to boycott the brand. Bud Light also faced backlash from Mulvaney's fans, who think the brand didn't do enough to support her.