Cars, motorhome, boat available at this weekend's Allen Park police vehicle auction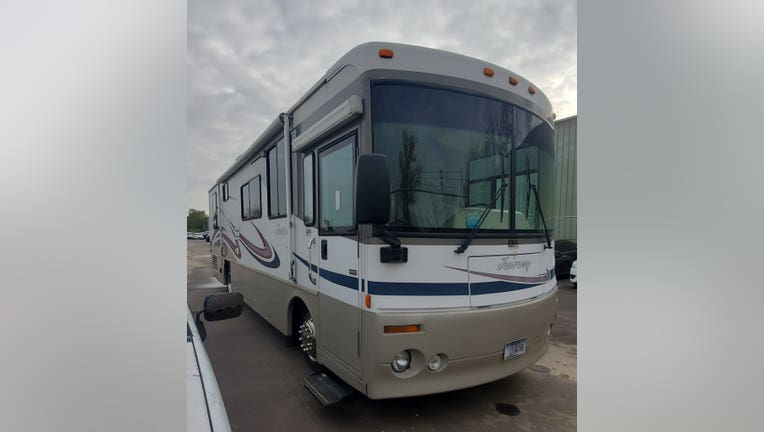 article
ALLEN PARK, Mich. (FOX 2) - A boat, motorhome, lawnmower, and numerous cars are up for auction at Saturday's Allen Park police vehicle auction.
The vehicles must be purchased with cash or a company check. They are being sold as-is with no odometer reading. Vehicles can be inspected one hour before the auction, which starts at 10 a.m. at the Allen Park Police Auto Pound.
Entry to the auction is free but all bidders must register prior to at the city's Records Bureau at 15915 Southfield Road.
Purchased vehicles must be paid for by 3 p.m. Saturday and all vehicles must be removed from the lot by Wednesday.
The impound lot is at 24000 W. Outer Drive.
Tentative list of vehicles available:
2001 Acura 3.2cl
2003 Hyundai Sonata
2009 Saturn Vue
2008 Ford Edge
2005 Mazda 6
2006 Jeep Grand Cherokee
2010 Kia Forte
1998 Lexus Ls
1999 Mercury Cougar
2007 Saturn Aura
2013 Chevy Malibu
2016 Chevy Impala
2004 Honda Civic
2003 Bmw 330
2007 Lincoln Mkz
2002 Dodge Dakota
2013 Ford Taurus
2009 Chevy Malibu
2013 Dodge Dart
2009 Chevy Malibu
2005 Honda Civic
2002 Chevy Trailblazer
2007 Mercury Mariner
2002 Ford Focus
2014 Chevy Cruze
2003 Mercury Grand Marquis
2008 Chrysler Town & Country
2007 Chevy Silverado 1500
2011 Toyota Camry
1999 Dodge Durango
2005 Chevy Impala
2005 Ford Explorer
2003 Chevy Venture
2016 GMC Terrain
1998 Audi A4
1999 Chevy Astro
2010 Ford Escape
2003 Bmw 745
1950 Sears 14 Foot Boat
1997 Nissan Sentra
1999 Chevy Astro
2002 Chevy Tahoe
2004 BMW 330i
2005 Ford 500
2007 Chevy Silverado
2004 Honda Element
2003 Winnebago Motor Home
2005 Ford Escape
2020 Ford Fusion
2014 Chrysler 200
2005 Ford Escape
2002 Ford Focus
2001 Chevy Suburban
2010 Ford Mustang
2010 Dodge Avenger
2017 John Deere Zero Turn Mower Model Z950m