Cheer coach uses CPR, AED to save student-athlete who went into sudden cardiac arrest
MEMPHIS, Mich. (FOX 2) - A cheer coach at a Michigan high school said she was in the right place at the right time when a student-athlete went into cardiac arrest last month.
The student was at practice at Memphis High School when it happened. Amanda Bobcean, who is also an emergency room nurse and mother, jumped into action with CPR and an automated external defibrillator (AED) to revive the student 15 minutes before EMS arrived.
Read: Damar Hamlin discharged from hospital after completing comprehensive tests
"A lot of what ifs came to mind – what if our school didn't have an AED?" she said. "It takes a situation like this to realize that you could do better."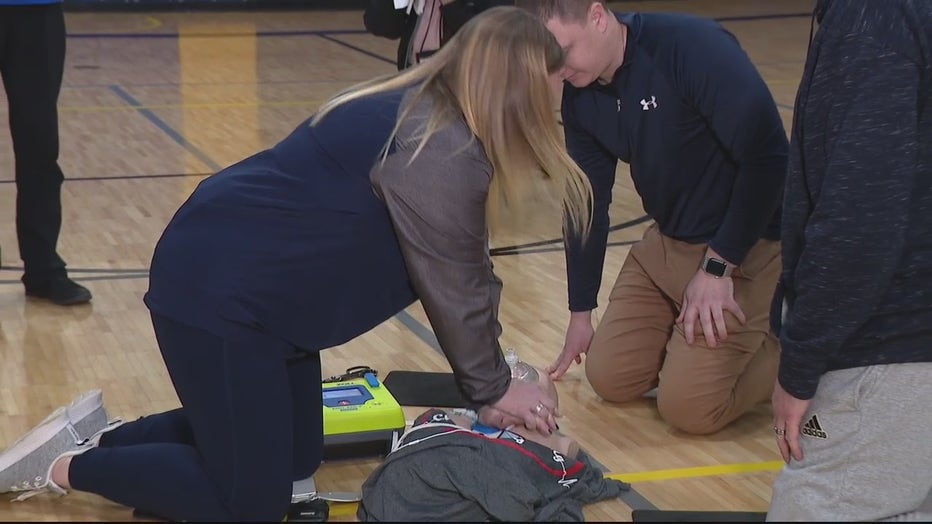 Jennifer Shea, the Beaumont Student Heart Check Manager for Corewell Health East, said numerous people have been rescued in schools this year.
"We already have had multiple saves this year in schools," Shea said.
The student heart check program certifies schools as Michigan Heart Safe Schools. These schools have teams in place to handle cardiac arrest, as well as AEDs available. AEDs are not required by law to be in schools.
"We are going to be giving additional AEDs and donating them to the school," Shea said.
Bobcean said she is committed to making sure other schools are ready to handle cardiac emergencies. 
"I want to know that when my students and my children go to other schools, I want to know that if a sudden cardiac arrest happens, that there's an AED is there," she said.
Corewell Health said some heart issues require advanced screenings to detect, something that isn't happening during a typical sports physical. Corewell is hosting a student heart check event at Dearborn High School on Feb. 4. Learn more here.