Chevron clarifies future of Hess Toy Truck after $53B deal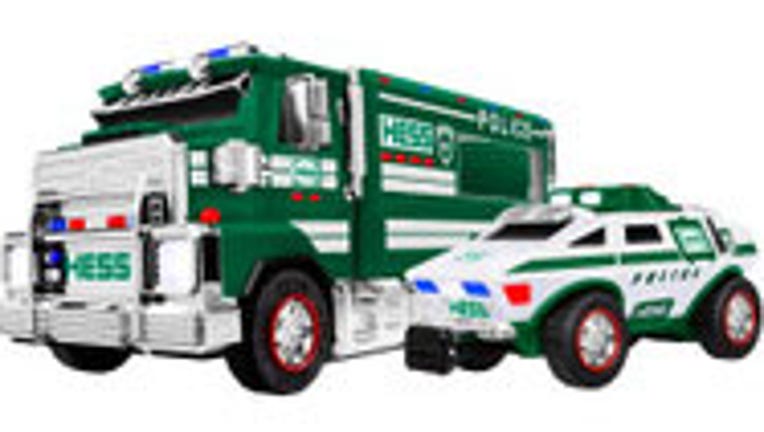 article
After Chevron shelled out $53 billion for Hess Corp., the oil giant made a deal of its own, telling customers its iconic Hess Truck will remain a holiday staple. 
"IMPORTANT ANNOUNCEMENT FROM HESS: Earlier this morning Hess Corporation announced an agreement to be acquired by Chevron. We want to reassure all of you, our loyal fans, that the Hess Toy Truck, a long-standing and cherished tradition, will continue for future years!" the company shared on social media and via email.
It also hyped this year's model. "The 2023 Hess Police Truck & Cruiser is on sale now at HessToyTruck.com, with exciting things planned to celebrate the Hess Toy Truck's 60th anniversary in 2024! #hesstoytruck #tradition" 
CHEVRON BUYING HESS IN $53 BILLION DEAL
The truck, which rolled onto the scene in 1964, sees its model updated annually with the signature Hess white and green logo. The company describes the product as "one of the best-selling and longest running toy brands in America." 
It was the brainchild of Leon Hess, the founder of the company, who opened his first gas station in New Jersey.
Additionally, the development is closely guarded and takes years. 
"The highly secretive process of developing the annual toy generally starts between two and three years before it actually goes on sale. And for some of the more complicated toys, it's been as long as six years from concept to market."
Chevron announced plans to acquire Hess for $53 billion or $171 per share to beef up the company's assets, including in the coveted region Stabroek block in Guyana. 
"This combination positions Chevron to strengthen our long-term performance and further enhance our advantaged portfolio by adding world-class assets," said Chevron Chairman and CEO Mike Wirth in the deal announcement. 
Hess CEO John Hess will join Chevron's board of directors. 
The deal is the second mega tie-up in the energy sector this month following Exxon's $59 billion acquisition of Pioneer. 
Read more of this story from FOX Business.