City of Detroit, FCA announce 215 acre land deal worth $108 million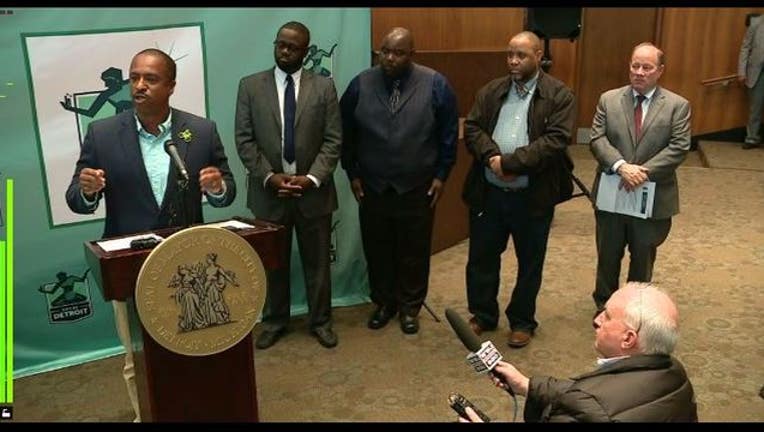 article
(FOX 2) - Missing the original 60-day window by an extra work week, city officials, members of Fiat Chrysler and the UAW announced an approved land deal for a new Jeep plant development.
Calling it a "leap of faith," Mayor Mike Duggan told reporters Friday afternoon at a press conference said the city had secured 215 acres of land.
"Everybody in this town actually pulled together and we did something I doubt any other city would try," said Duggan. "They bet on us these 60 days."
Earlier this year, FCA announced intentions to invest about $2.5 billion to convert the Mack Avenue Engine Complex and the Jefferson North Assembly Plant. The investment will also bring in close to 5,000 jobs between the two renovated facilities.
The deal, worth $108 million, represents a series of agreements between the city, a large automotive manufacturer and several private land owners. Featuring a series of land swaps with many of the owners, Duggan touted the success of the deal, despite its complexity.
"We wouldn't have had a chance if this was the old city."
"I stood here about 20 years ago to lay out the details of the Comerica Park Ford Field negotiation which I thought deal and I thought was the most complicated thing I ever saw," he said. "That was easy compared to this."
The money spent on the land deal is split between the city and the state, with $51 million coming from Detroit and $57 million coming from the state. Much of it came it from uncommitted bonds - and none came from the General Fund.
Of the families that own the land the city sought after, the Moroun family, who also owns the Ambassador Bridge, was referenced as a tricky component of the deal. The agreement included $43.5 million in cash and a land swap of 117 acres of land.
Duggan said the 155 acres of total swapped land cut the cost of the deal by $15 million.
"We appreciate the tireless efforts of Mayor Duggan and his administration and the Neighborhood Advisory Council to reach this important milestone," said Mark Stewart, FCA's chief operating officer for North America.
On top of the finances was an emphasis on the Community Benefits Agreement, which ensures jobs that open up at the new factories will be available first to UAW workers and then community members in Detroit. After both groups have been exhausted, then the jobs will be available to members of the surrounding suburbs.
In total, after tax breaks, land swaps and cash, the city spent $63 million. But as Duggan emphasized, it comes with a "$2.5 billion in investment."