Clothing store The Broadway in Detroit closing for good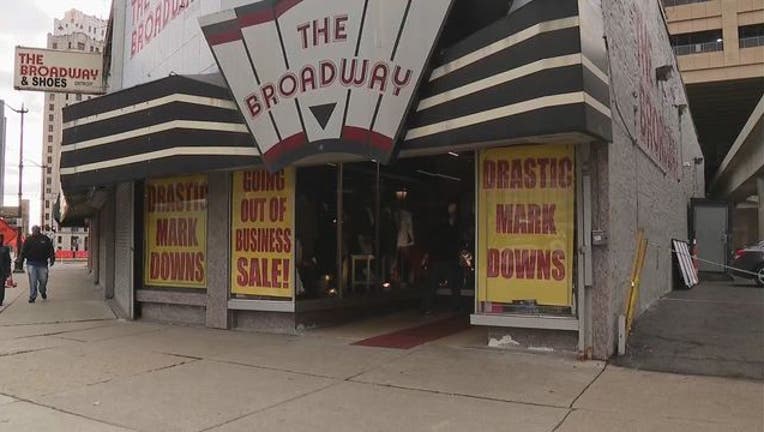 article
DETROIT (FOX 2) - A legendary clothing store in downtown Detroit is closing its doors.
After more than four decades in business, The Broadway will be closing in early spring of next year. The store's owner, 70-year-old Pepper Martin, says he plans to retire. 
A going-out-of-business sale starts Monday, Dec. 17, 2018. Everything will be at least 30 percent off. 
The Broadway is known for its high-end and exotic clothes from around the world, including Italian suits and sweaters, alligator and ostrich shoes, fur and leather jackets and an assortment of shirts, jeans and dress pants.  
Martin, along with Donny Goldstein, opened the Broadway in 1975, to sell high-quality men's and women's apparel. In the ensuing years, two other stores were added in downtown Detroit, Ciao and City Slicker Shoes. 
The store has served many national and local celebrities including Tony Bennett, Steve Harvey Isaiah Thomas, Detroit Mayor Coleman Young, Tommy Hearns, Kid Rock, Temptations, George Clinton, Oral Roberts, Notorious BIG, Mike Epps and hundreds more. 
The Broadway has nearly $1 million in inventory and everything will be at least 30 percent off, including: suits regularly $650 and $450 marked down to $399 and $199; and dress pants, shirt sets and sweaters at buy one get one free.
Bedrock purchased the property from Martin in August of 2018. The Broadway will close for business in early spring 2019, or when its inventory is sold. Financial details of the sale are not being disclosed.