Confirmed tornado, downed trees, hail, and hundreds of power outages after latest severe weather
MONROE COUNTY, Mich. (FOX 2) - By Friday morning, the subtle hum of generators was the dominating sound throughout Monroe County after severe weather did a number of some southern Michigan communities.
Thursday evening's storm brought torrential downpours in Wayne County, golf-ball sized hail in Livingston County, and a tornado touchdown in Monroe County.
It also knocked out power for hundreds living along Lake Erie whose neighborhoods were covered in debris.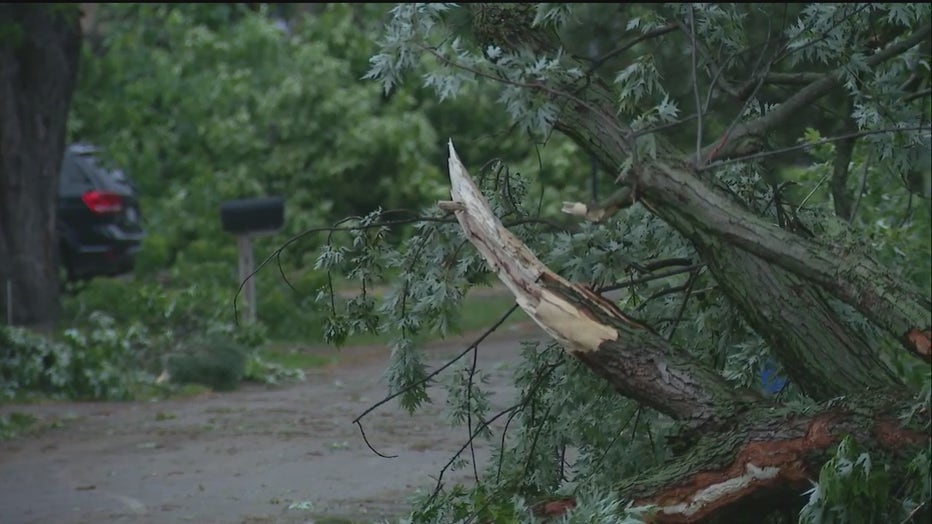 "We're all relaxing in the house, the storm started rolling through and all of a sudden the wind just blew up out of nowhere," said Joe Sonores. "Went to look out the window and heard a loud crack, saw tree limbs coming through the window."
Sonores was one of several homeowners to find damage to his home. The vehicles parked at his house also were hit.
"After it finally passed, we came outside, tree was down, took out the truck, took out the Jeep, punched a couple holes in the roof," he said.
RELATED: After cloudy start, beautiful weekend of weather on the way
By Friday morning, there were several hundred outages around Metro Detroit. In the south in the Baycrest Beach, Detroit Beach, and Woodland Beach neighborhoods near the city of Monroe, there were more than 700 outages.
The National Weather Service confirmed a tornado touched down in Frenchtown Township in Monroe County. They plan to have more updates on the damage from the storm Friday.