Courser's lawyer: A.G. dispicable and disgraceful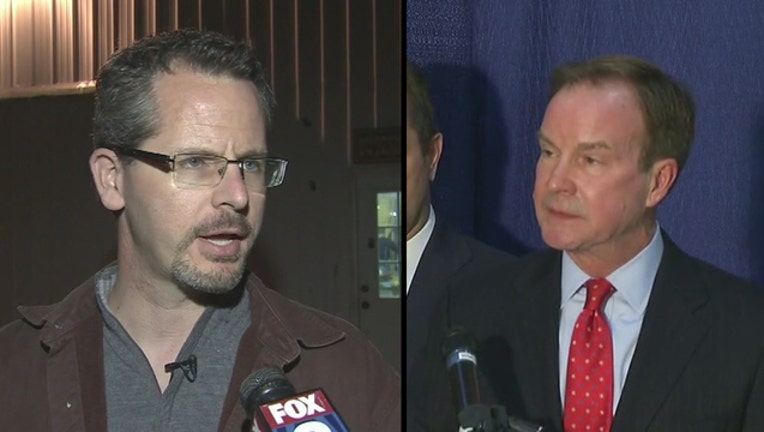 article
(WJBK) - Michigan Attorney General Bill Schuette came in for some harsh criticism today at the hands of Matthew DePerno, who is representing former Rep. Todd Courser.
Asked to comment on Mr. Schutte's role in all this, which has resulted in two criminal charges against Mr. Courser, Mr. DePerno argues that  the conduct has been "despicable and disgraceful."
Lawyer DePerno thinks it was wrong from the A.G. to turn an alleged violation of House Rule 41 into a criminal case against his client. And he contends if violating that rule is a criminal offense, "than Speaker Cotter also committed a crime."
"Does the attorney general really want to send Mr. Courser to prison because he sent out that email?" referring to the false email composed by the lawmaker in the midst of his affair with Ms. Gamrat. "Does the attorney general really want to send Mr. Courser to prison because he asked a staff member to sign a blue back? Are you kidding me? Are you kidding me?"
Reminded that in the past Mr. Schuette has said he is just doing his job, Mr. DePerno rejects that saying, "We would disagree with that. There are more pressing things that he could be doing right now," including dealing with "the bodies stacking-up in Flint."
The far-reaching interview during the regular Off the Record broadcast and an overtime segment covered allegations of someone ordering surveillance of Mr. Courser and his former lover and former Rep. Cindy Gamrat. "We don't know who put people to follow (them) but what we know is that people were following them around. Toward what end? To look for some information we believe to be used against them. We don't have the theory as to what that would be at this point."
Mr. DePerno also reveals that he will be challenging the ability of the legislature to expel members for any reason. It's generally assumed in town that the legislature can pick any reason to remove a member, but this assumption he contends is "too vague" and will ask the courts to toss it out. In the past the courts have been reluctant to dive into the internal workings of the legislative branch of government.
He also indicates he has asked the Michigan State Police to investigate Speaker Cotter's role in this case but that has not happened, he reports.
The A.G.'s office declined to comment on these allegations. MIRS contacted the Speaker's office it dismisses the barrister's remarks as "ridiculous" and designed to divert attention from the charges the former house member is facing.