Dearborn family arrested while trying to deposit check in bank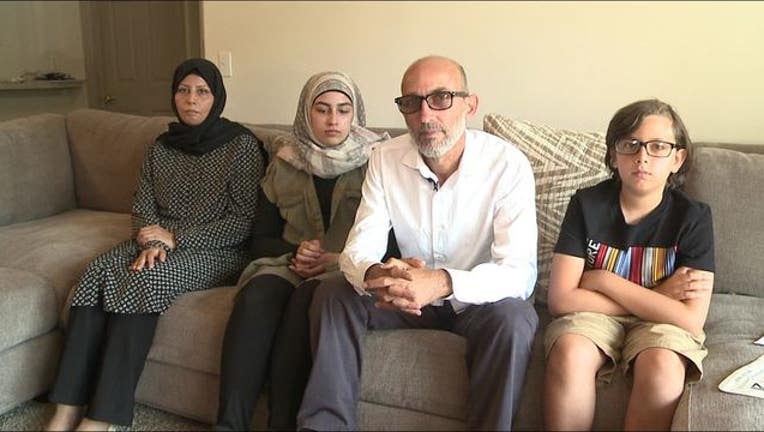 DETROIT (WJBK) - Sattar Ali says he's questioning moving his family from Dearbornback to Wichita after he, his wife, and daughter were all in handcuffs when he tried to deposit a check in the bank.
According to KAKE-TV in Wichita The Ali family recently sold their Dearborn home and moved to Wichita, Kansas, so the patriarch could finish his degree and they could be closer to his son at Wichita State.
Sattar Ali took his check for $151,000 to the bank so he could deposit it until they could buy a place. He told KAKE that he had all the documents necessary.
"I went to the bank to deposit the check and I took all of the documents with me to verify," he said.
Ali said he wasn't trying to cash the check, just deposit it.
"I told them I don't need it until I find a house. So keep the check with you, verify, take your time," he told the TV station. "Simply we were just going there to deposit a check.  We were not asking for money."
Just a few minutes after he arrived, the police showed up.
"I was talking to them for less than five minutes and I found the police behind me, handcuffed me, confiscated everything and took me outside."
His wife Hadil and their 15 year old daughter Hawra were waiting in the car outside the bank - both were also arrested. All three were taken to police headquarter for questioning and were held for three hours.
Not only that, police also called the school where he sends his 11-year-old son and told the school to hold him because the family was in custody.
Meanwhile, the Alis had no idea why they were arrested.
"They didn't say why or what happened or what did we do. I'm trying to figure out what did we do," Sattar said.
KAKE received a statement from Wichita police that said they were called to the bank for an attempted forgery.
"Officers on scene made attempts to verify the legitimacy of the check, and were unable to do so. Wichita Police Detectives were utilized as part of the investigation due to their expertise and access to additional resources. The Detectives, using the additional resources, were able to verify the legitimacy of the check."
The Ali family are Iraqi-Americans and American citizens. Ali said they lived in Wichita for years before moving to Dearborn. Now that he's back in Wichita, he said he was being racially profiled and is questioning the decision to move back.
"Does Wichita not welcome any foreigners? Then tell us. Be up front and forward with people and say, you are not welcome in our city." 
Ali was puzzled with why the bank couldn't seem to verify the check but police did.
The bank released a statement saying that it "can confirm that our team acted in accordance with our policies and procedures. If faced with the same circumstances today, we would expect our team to take the same actions."