Dearborn Heights couple loses everything in house explosion and needs help
REDFORD TWP., Mich. (FOX 2) - An act of kindness was born from the ashes of a home explosion in Dearborn Heights.
On Friday, we told you about the couple who lost everything, except their pets.  In addition to finding a new place and replacing their belongings, they have a $10,000 vet bill for their dogs.
"I was here at work, it was about 2 o'clock and I went to take my lunch. I heated up my food, I took two bites. I'm just sitting down. I open up Instagram, and the first thing that loads up is the video of our house on the city of  Dearborn page," said Ali Ayash. "And I knew instantly it was our house."
FOX 2 was there — moments later — as Ali Ayash found his home in shambles.
Neighbors say the house exploded Friday afternoon.  Ali rushed from work to the arms of Yenifer Mondragon.
The couple recently bought the home in Dearborn Heights - now, they've lost everything.
"When you look in the rubble, like really look, I can see oh that's my favorite cup. That's my dresser, that's my half-burned jacket," he said.
While Ali and Yenifer don't have anything but the clothes on their back, they need $10,000 to pay for their dogs' medical bills.
Firefighters rescued the pets as flames engulfed the house.  Now, Ali's boss, friends, and even strangers are trying to help.
"We were thinking the worst. We felt for him," said Joseph Schork. "Charity starts with people you know. Instead of donating to different causes, at least this is going right in his pocket."
A GoFundMe was made to get the couple back on their feet.
Ali and Yenifer didn't have insurance.
"Anything helps right now," said Yenifer. "Even $10 is a big deal for us right now — especially when it is coming from strangers who don't even know us."
"It's crazy to see how the community is there to support you," Ali said. "People you would never even think got your back. it's beautiful, honestly."
The cause of the home explosion is still under investigation. 
If you would like to help the family this is the link to donate to them.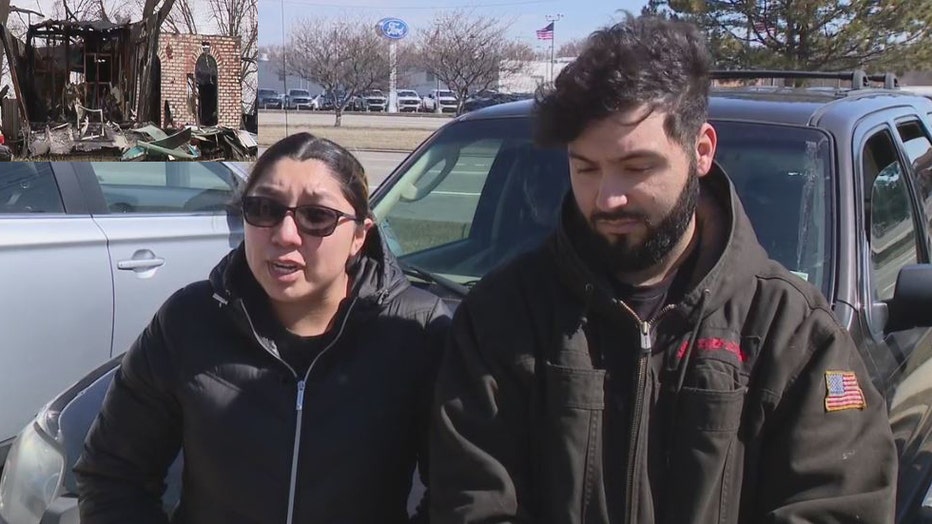 Ali Ayash and Yenifer Mondragon.