Denver Post writer 'uncomfortable' with Japanese man winning Indy 500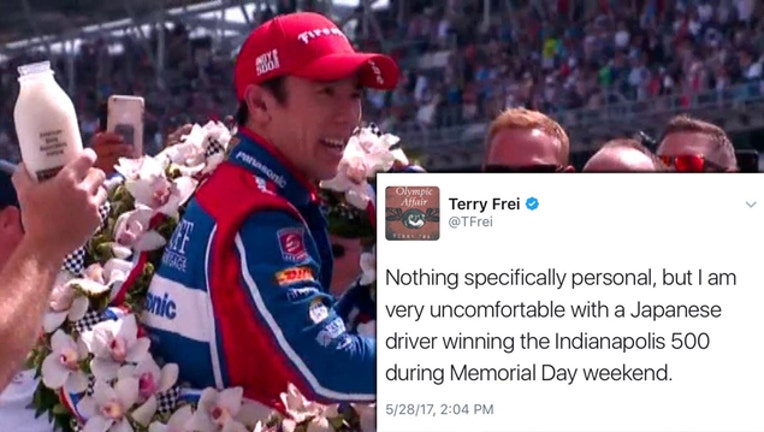 article
(WJBK) - A longtime sports columnist is no longer working for The Denver Post after tweeting he was uncomfortable this year's winner of the Indy 500 is Japanese.
Shortly after Japanese driver Takuma Sato won the race on Sunday, now former sports columnist Terry Frei tweeted, "Nothing specifically personal, but I am very uncomfortable with a Japanese driver winning the Indianapolis 500 during Memorial Day weekend."
Frei proceeded to delete the tweet, but not before other users were able to screen-grab it:
The Denver Post tweeted statement following the incident:
"We apologize for the disrespectful and unacceptable tweet that was sent by one of our reporters. Terry Frei is no longer an employee of The Denver Post. It's our policy not to comment further on personnel issues. The tweet doesn't represent what we believe nor what we stand for. We hope you will accept our profound apologies."
It is unclear whether Frei was fired or resigned. Dozens of users argued over the Post's tweet, some saying the newspaper's condemnation violated Frei's First Amendment rights to free speech.
Later that night, Frei tweeted a public apology in which he talked about his father's service in WWII.
"He flew alone, or with a partner in a second plane, over Japanese targets in advance of the bombing runs," he wrote.
He goes on to describe his experience writing about American athletes in WWII, and those who were killed in the Battle of Okinawa.
"I made a stupid reference, during an emotional weekend, to one of the nations that we fought in World War II -- and, in this case, the specific one my father fought against," he said.
The full statement: