Detroit Grand Prix course will have 9 turns, plenty of viewing options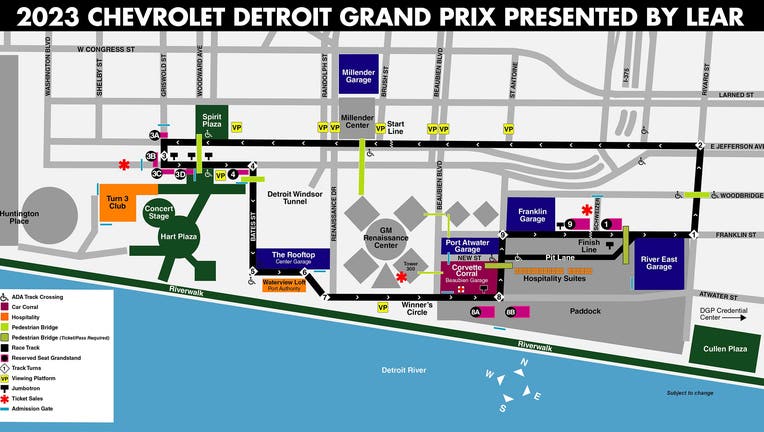 article
DETROIT (FOX 2) - The Detroit Grand Prix is just around the corner with a new course and a new year to experience some of the fastest drivers in the world.
There are races all weekend before the main event on June 4 at 3:45 p.m.
Different from last year and many race years before it, this latest course will spend all of its time in downtown Detroit. Previous courses took drivers onto Belle Isle. Last year, it was announced the city would adjust the course.
The start line is located near Brush Street and the Millender Center. From there, drivers will travel west down Jefferson Avenue, past Spirit Plaza before making their first major turn at Griswold which swings the drivers back onto eastbound Jefferson.
A quick right turn then takes drivers onto Bates Street before speeding onto Atwater Street, passing the Renaissance Center on the left and the Detroit River on the right.
From there, the drivers will swing left back onto St Antoine where they'll turn right onto Franklin Street. The Paddock where the vehicles can make pit stops is also located here, as well as the finish line. 
The final turns happen at Rivard Street before the drives go back onto Jefferson Avenue for the straightaway.
Find more Detroit Grand Prix news and event information here. 
Viewing spots
The beauty of having a race in a city is all the amazing spots to watch the drivers.
Fans attending the race can watch it from several spots along the course including two pedestrian bridges where tickets will be required to enter. Those sports are located near the finish line. 
Pedestrian bridges will also help people get around the course, however, they are not for viewing. Smaller pedestrian bridges include where the viewing might be a bit tougher include two on Beaubien Boulevard and Franklin Street. 
The race event will have viewing options at several platforms, as well as from high rises, garages, and other suites. 
MORE: Detroit Grand Prix: A-Trak, Big Boi, Z-Trip, Steve Aoki announced as music headliners
There are VIP viewing platforms all along Jefferson Avenue and Atwater Street, as well as one near Hart Plaza.