Detroit Police officer shot, condition 'deteriorates', surgeon says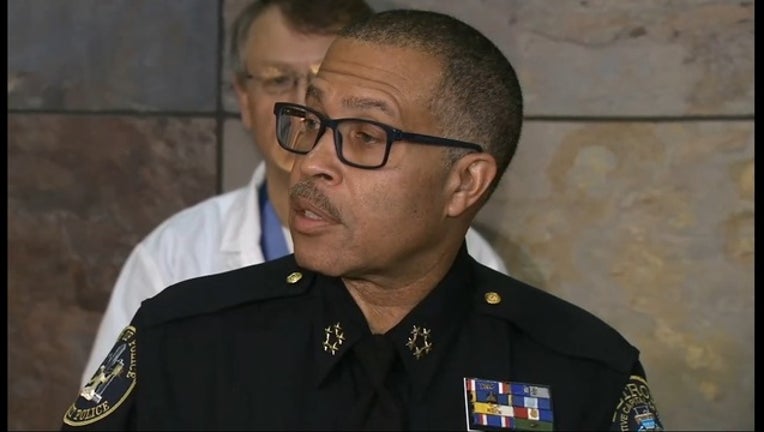 article
DETROIT (WJBK) - During a press conference on Monday where police provided an update to the officer who was shot Sunday night, the officer's surgeon says that his condition has deteriorated.
Detroit Police Chief James Craig, Mayor Mike Duggan, and Beaumont Dr. James Wagner spoke at the press briefing on Monday. Dr. Wagner said that the officer was severely injured when he arrived at the hospital and this condition had deteriorated since the first operation.
Dr. Wagner said the officer was shot once in the forehead and he will require another operation. He called the injuries "very devastating" and said the team would do everything they can to save his life.
The officer and his partner were responding to a domestic violence call Joy Road and Wyoming around 10:30 Sunday night. According to Craig, there was only a main entrance to the apartment complex and the caller said they would prop the door open for police.
When the officers arrived, the door was closed and the knocked and announced themselves as police. That's when Craig said the suspected shooter came out of the door with a .380 and his arm extended. Craig said the officer, a 14-year veteran of the force, fired several rounds.
Simultaneously, the suspect also shot at least one round. The two fell to the ground as the second officer fired multiple shots as well, immobilizing the suspect.
The second officer then pulled the first officer to safety. Craig said the second officer has been out of the Detroit Police Academy for just six months.
"This is a sober reminder of the dangers our officers face each and every day. it was just last week, we talked about the dangers of handling domestic violence calls," Craig said.
Mayor Mike Duggan and Craig both said that the officers' response to the scene was 'textbook' and that they responded as best they could, given the situation.
"The randomness of this, it appears that the person who was the reason for the domestic violence call had already left the building. random person comes out with a gun pulled on officers that weren't expecting it. they responded professionally and appropriately," Duggan said.
Craig said there is not any body cam footage available but there is some surveillance video that they were able to watch to the shootings unfold.