Man arrested in fatal shooting of Detroit mother; charged with murder, armed robbery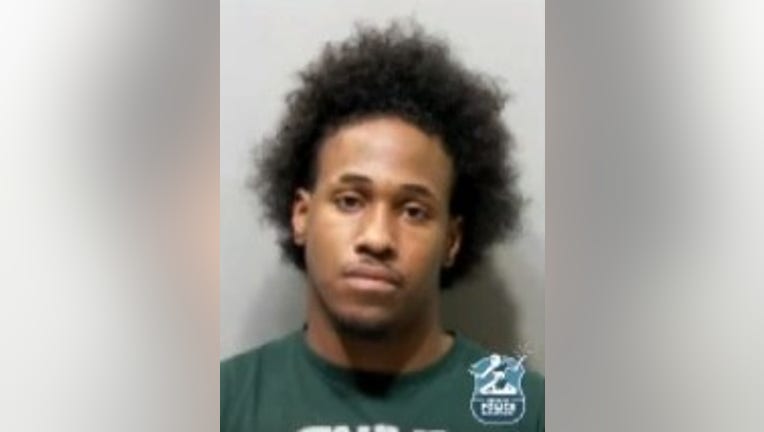 article
DETROIT (FOX 2) - Detroit police have arrested a male suspect involved in the fatal shooting of a 53-year-old mother that officers believe was random.
Bradley Thurman was arraigned on several felony charges including murder and armed robbery by the Wayne County Prosecutors after his arrest Jan. 13. He was given a $4 million cash bond, chief James White said. 
The arrest was made following a weekslong investigation that involved agents from the ATF, FBI, and the homicide division of the Detroit Police Department. 
"This case, not unlike many others, was extremely tragic. It touched all of us," White said. More than a dozen officers credited with Thurman's arrest flanked the chief, as well as Tracie Golden's husband John. 
"She stopped at the store on her way home. Unfortunately, she was victimized by someone who had no respect for life."
White declined to give details around the murder and Thurman's arrest, saying the investigation was ongoing. However, police did say Thurman had spoken with officers and had a motive. 
"It was 100% spur of the moment. He did not target her," said Sgt. Michael Dowdy.
Thurman was charged with one count of first-degree murder, felony murder, five counts of armed robbery, and seven counts of felony firearm. 
Tracie Golden, 53, was fatally shot after exiting her vehicle in the parking lot of Beverage One Liquor Store on Dec. 28. 
RELATED: 'She was my rock': Tracie Golden's husband grieves loss
Surveillance footage caught the brazen shooting, showing the suspect pulling out a gun and striking Golden in the abdomen. After she fell to the ground, the suspect went through her pockets before getting in the victim's car and fleeing the location.
Golden was taken to a local hospital in critical condition before succumbing to her injuries, police later said.
Her car was later found at a Family Dollar after an armed robbery incident on Seven Mile. Investigators alerted to the robbery later used surveillance footage and tips from the community to identify Thurman as the suspect involved.