Detroit Tigers Opening Day guide: gametime, traffic, parking, weather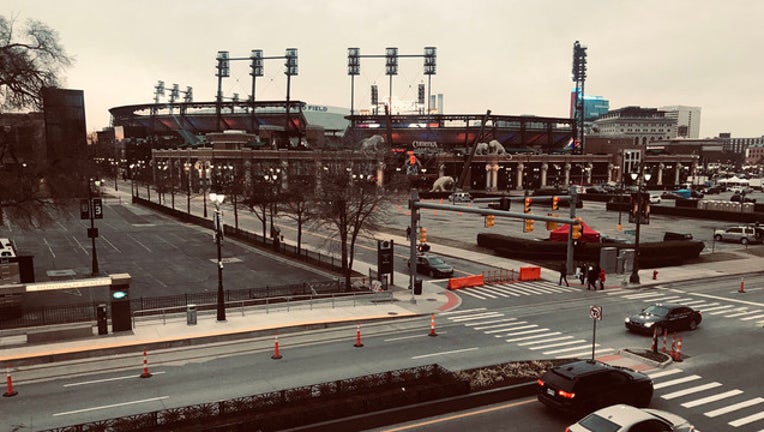 If you're heading downtown Thursday  for Opening Day, you may be wondering what time to get up and start making your way down. Here are some things that could help make your decision.
All of our pregame coverage can be seen on FOX 2 or on our livestream at www.fox2detroit.com/live.
The game cannot be streamed on FOX2detroit.com but you CAN watch it with the FOX Sports GO app - television provider login required. CLICK HERE to get the app. 
And, if you can't make it downtown for the game, or want to stay in your warm and comfortable living room before going downtown, FOX 2 is the place to be for all day coverage of Tigers Opening Day.
You can be a part of the festivities with us on-air and online. We'll be going live from all the hot spots all morning long starting at 4:30 a.m.
At 10 a.m., The Nine pitches to the sports department. They'll continue our live pregame coverage starting at 10 a.m. Dan Miller, Jennifer Hammond, and Ryan Ermanni will be live at Comerica and Cheli's as we preview opening day and what we should expect for the 2017 Detroit Tigers.
All of our pregame coverage can be seen on FOX 2 or on our livestream at www.fox2detroit.com/live.
WHAT TIME SHOULD I GO DOWNTOWN?
The first pitch of the game is at 1:10 p.m. and the gates at Comerica will open at 11 a.m.
Opening Day is typically the busiest day of the year for Comerica and downtown Detroit so the suggestion is to leave early! There's not a ton of downtown construction this year (YAY!) but for Tigers fans Downriver, the trip home is going to be a headache with southbound I-75 is still closed. 
If you're planning on heading to a bar or restaurant's Opening Day celebration, we recommend checking their website or calling them to see what time they'll be open.
BUNDLE UP
You're going to a baseball game in April. In Detroit. Temperatures are going to be in the 30s and 40s with a chance of rain. Dress warmly...
Here's Derek Kevra's full forecast for gameday.
The good news? It won't be raining or snowing? 
Stay up to date by downloading the FOX 2 Weather Authority app. It's free for Androids and iPhones. CLICK HERE to download.
WHERE SHOULD I PARK?
As expected, parking will be at a premium and most lots surrounding the ball park will fill early. Many spaces are also reserved for guests with season parking passes. There are 9 lots surrounding Comerica that are priced at $25. That includes Fox Garage, The D Garage, Tigers Garage, and lots near Ford Field. If you're willing to walk, you could always park at some of lots on Cass. Those are between $15 and $25.
You could even find some cheaper, private options nearby.
The Detroit Tigers suggest utilizing shuttles from local bars, restaurants and casinos. If that's not an option for you, here's a parking map to help you find a lot:
WHAT/WHERE SHOULD I EAT? 
You've probably got a game plan for tailgating or where you'll be eating out -- but know that officials at Comerica Park are adding a slew of souvenirs and new snacks that may make you rethink your ball park food. 
You can decide for yourself if that sounds good - it's obviously more than your normal ballpark frank.
Want to plan ahead? The Detroit Tigers have a very convenient map on their website where you can find any restaurant, restroom, or merchandise booths. CLICK HERE to check it out