Driver killed after speeding off I-94 ramp to Telegraph, colliding with retaining wall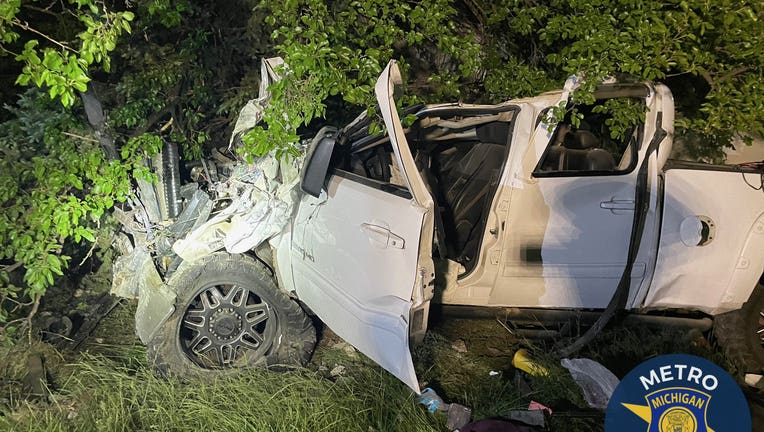 article
TAYLOR, Mich. (FOX 2) - A truck driver who was speeding on I-94 before exiting at Telegraph in Taylor died when he failed to navigate the off-ramp's curve.
After exiting the road, he drove through a drainage ditch, both directions of Telegraph traffic before crashing into a retaining wall. 
The wild crash scene happened around 11 p.m. May 25 in Taylor, according to Michigan State Police on Twitter. The victim truck, a GMC, was found in the backyard of a home on Cooper Street.
The driver of the truck was a 43-year-old male from Shelby Township. 
He was driving westbound on I-94 when he exited at Telegraph. The off-ramp has a major bend before drivers are dropped off onto Telegraph.
State police said the driver was "unable to negotiate the curve" at the end of the turn because he was speeding. The driver ended up driving into a ditch, then back up across Northbound and southbound lanes of Telegraph, then crossing into a wall. 
RELATED: 1.2 million Michiganders to travel for Memorial Day weekend
The driver was pronounced dead at the scene and family has been notified.
"As we commemorate this Memorial Day weekend, let us  make road safety a priority." First Lt. Mike Shaw said. "Buckle up, drive responsibly and ensure that the memories with family and friends created this weekend are filled with fun and not sadness due to a preventable crash."