Egyptian plane with 66 aboard crashes; terrorism suspected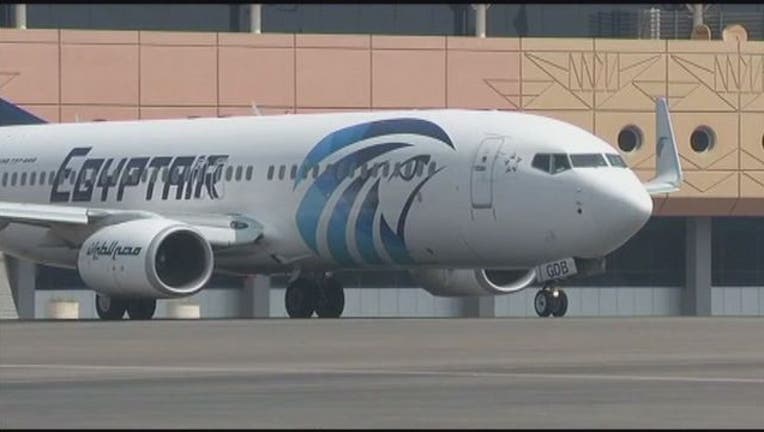 article
CAIRO (AP) - An EgyptAir jetliner bound from Paris to Cairo with 66 people aboard crashed in the Mediterranean Sea early today after what authorities call a mysterious series of extremely abrupt turns.
Egypt's aviation minister says it may have been a terrorist attack. There are no immediate signs of any survivors.
Egypt's Civil Aviation ministry says in a statement that "floating material," including life jackets and plastic items, have been found in the sea off the Greek island of Karpathos, close to the suspected site of the EgyptAir plane crash.
The ministry says it is coordinating with Greek counterparts to examine what they have found and to determine whether the items could be part of the debris from the plane that crashed before dawn on Thursday while carrying 66 passengers and crew.
EgyptAir Flight 804 was an Airbus A320 carrying 56 passengers and 10 crew members. It went down about halfway between the Greek island of Crete and Egypt's northern coastline after takeoff from Charles de Gaulle Airport.
Greece's defense minister says the plane spun all the way around and suddenly lost altitude just before vanishing from radar screens around 2:45 a.m. Egyptian time.
In Cairo, Civil Aviation Minister Sherif Fathi cautioned that the disaster is still under investigation. But he said the possibility it was a terror attack "is higher than the possibility of having a technical failure."
Those on board, according to EgyptAir, included 15 French passengers, 30 Egyptians, two Iraqis, one Briton, one Kuwaiti, one Saudi, one Sudanese, one Chadian, one Portuguese, one Belgian, one Algerian and one Canadian.
Egyptian military aircraft and ships are searching for debris and victims from the plane, whose passengers included two babies and a child. Greek, French and British authorities also joined the operation.