Engler won't interview with Attorney General unless assistant AG recuses herself from investigation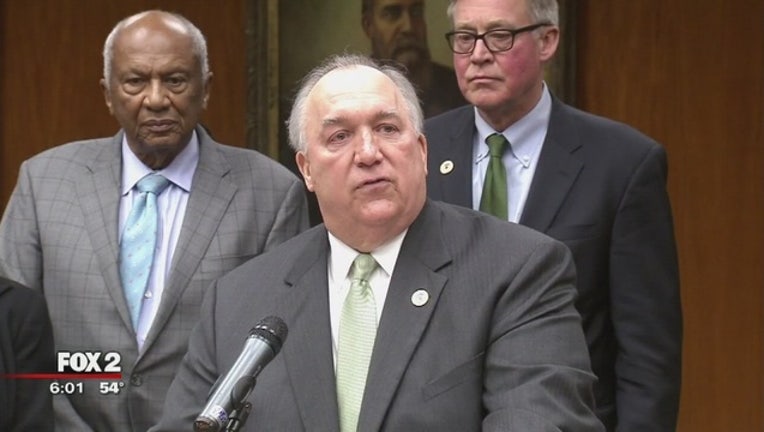 article
(FOX 2) - John Engler will not be interviewed by the Michigan Attorney General until a member of the department recuses herself from an investigation.
In a letter dated March, 19, 2019, Engler's lawyer Seth Waxman stated that the "ethical standards and objectivity requrired for the conduct of an investigation are inapplicable to your approach to Mr. Engler." 
"The Attorney General's Office cannot possible conduct a fair and objective investigation when it treats authoritatively non-news hatchet writing as a basis for assailing an admitted non-target, non-subject and likely non-witness."
The letter, which was addressed to Assistant Attorney General Christina Grossi, concludes by asking the Grossi recuse themelves from the case before Engler would be willing to participate in an interivew.
The letter follows a different letter that Nessel sent to MSU Board Chairwoman Dianne Byrum claiming that the former governor had been ducking her investigation, stating he wasn't available to be interviewed - despite making appearances at home MSU basketball games.
However, Waxman's letter disputes this claim, stating that after email exchanges between Grossi and himself had finalized a date and time for the interview of March 28th, at 10 a.m.. That date has since been cancelled for what Waxman claims "no legitimate reason, and certianly none tha furthers an objective fact-finding investigation."
He continues by stating:
"Nevertheless, based on no action or statement by Mr. Engler, you claim that he has a 'brazen disregard' for the investigation and was not acting in 'good faith,' among other libelous statements."
Waxman lists several instances where Grossi made "unfounded and defamatory statements with regard to Mr. Engler," saying he lied about his whereabouts, attempted to secure a venue where he could lie to investigators with impunity and stating Engler never intended to participate in the process in good faith.
Engler is not considered a target or subject in an investigation into conduct at Michigan State University following the Larry Nassar scandal. Several MSU employees, including former MSU President Lou Anna Simon have been criminally charged.