Eurovision 2023: Swedish singer Loreen wins global music competition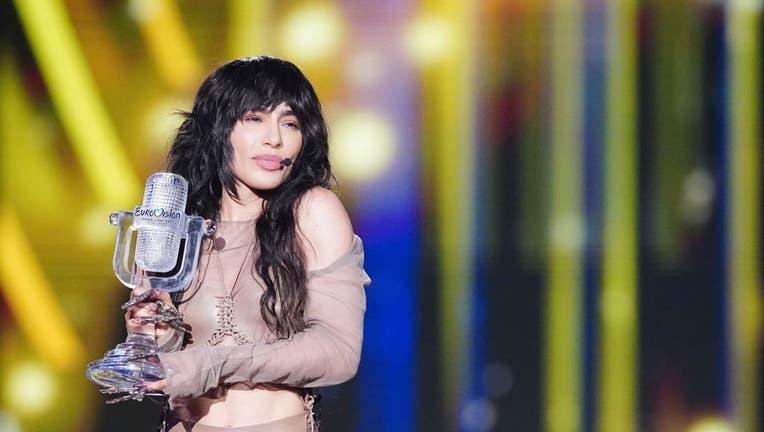 article
LIVERPOOL, England (AP) - Swedish singer Loreen won the Eurovision Song Contest on Saturday night with her power ballad "Tattoo," at a colorful, eclectic music competition clouded for a second year running by the war in Ukraine.
The diva from Stockholm beat acts from 25 other countries to take the continent's pop crown at the final of the competition in Liverpool. Finnish singer Käärijä was second in a close-fought battle of the Nordic neighbors.
Loreen previously won Eurovision in 2012 and is only the second performer to take the prize twice, after Ireland's Johnny Logan in the 1980s. It's Sweden's seventh Eurovision victory, matching Ireland's record.
Loreen said winning a second time was "overwhelming."
RELATED: Nevada considers tax credits to lure Sony, film industry to Las Vegas
Britain hosted Eurovision ton behalf of Ukraine, which won last year but couldn't take up its right to hold the contest because of the war. Air raid sirens sounded across Ukraine as the contest was underway, and Ukrainian media reported a strike in Ternopil, home town of Ukraine's Eurovision entry, Tvorchi.
Under the slogan "united by music," Eurovision final fused the soul of English port city that birthed The Beatles with the spirit of war-battered Ukraine.
The sights and sounds of Ukraine ran through the show, starting with an opening film that showed 2022 Eurovision winners Kalush Orchestra singing and dancing in the Kyiv subway, with the tune picked up by musicians in the U.K. — including Kate, Princess of Wales, shown playing the piano.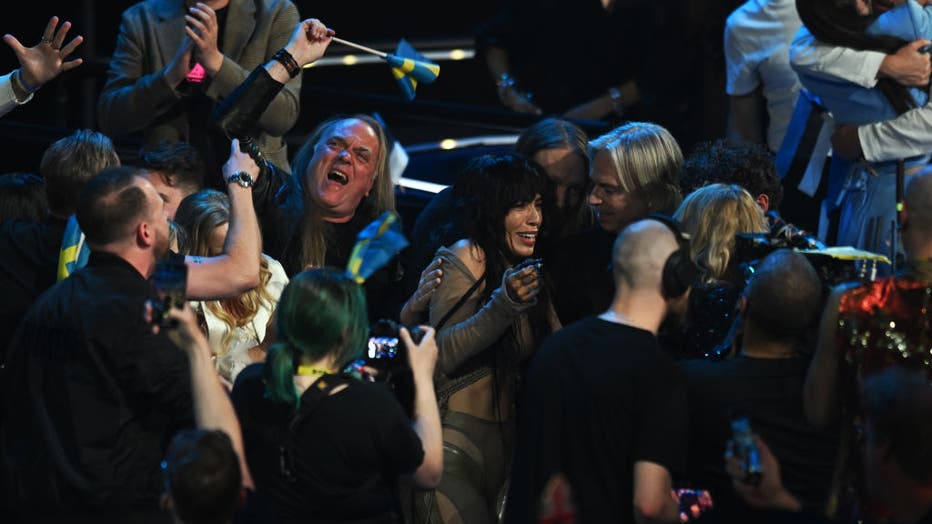 LIVERPOOL, ENGLAND - MAY 13: Sweden Entry Loreen wins The Eurovision Song Contest 2023 on stage during The Eurovision Song Contest 2023 Grand Final at M&S Bank Arena on May 13, 2023 in Liverpool, England. (Photo by Anthony Devlin/Getty Images
The folk-rap band itself then emerged onstage in the Liverpool Arena on a giant pair of outstretched hands, accompanied by massed drummers.
Contestants from the 26 finalist nations entered the arena in an Olympics-style flag parade, accompanied by live performances from Ukrainian acts including Go A, Jamala, Tina Karol and Verka Serduchka — all past Eurovision competitors.
Now in its 67th year, Eurovision bills itself as the world's biggest music contest — an Olympiad of party-friendly pop. Competitors each have three minutes to meld catchy tunes and eye-popping spectacle into performances capable of winning the hearts of millions of viewers.
Loreen had been the bookies' favorite and won by far the most votes from professional juries in Eurovision's complex voting system. She faced a strong challenge from Käärijä, a wildly energetic performer whose rap-pop party anthem "Cha Cha Cha" won the public vote.
RELATED: Kelly Clarkson responds to 'toxic' workplace claims about her talk show
Israel's Noa Kirel came in third with power-pop anthem "Unicorn," while Italy's Marco Mengoni was fourth with his ballad "Due Vite" (Two Lives).
The varied tastes of the continent were on display in a contest that took in the cabaret-style singing of Portugal's Mimicat; the Britney-esque power pop of Poland's Blanka; echoes of Edith Piaf from La Zarra for France; and smoldering balladry from Cyprus' entry, Andrew Lambrou.
From Australia — a Eurovision contender despite its far-away location — guitar band Voyager evoked head-banging '80s stadium rock. Croatia's Let 3 offered a surreal antiwar rock opera, and Austrian duo Teya & Salena sent up the music industry in Poe-referencing song "Who the Hell is Edgar?"
Electronica duo Tvorchi paid tribute to Ukraine's resilience on "Heart of Steel," coming sixth.
Britain's Mae Muller drew the unenviable final performance slot of the night with her jaunty breakup anthem "I Wrote a Song." She came in second to last place — but at least avoided the humiliation of getting "nul points" — zero points.
While votes were cast and counted, Sam Ryder, last year's runner-up for Britain, performed his new single "Mountain," accompanied by Queen drummer Roger Taylor. A "Liverpool Songbook" segment featured past Eurovision stars performing songs from the city, including John Lennon's "Imagine," "You Spin Me Round (Like a Record)" by Dead or Alive and the unofficial civic anthem "You'll Never Walk Alone" — with the audience joining in, as a tribute to both Liverpool and Ukraine.
About 6,000 fans watched the show inside the arena, and tens of thousands more at a Liverpool fan zone and at big-screen events across the U.K. The global television audience has been estimated at 160 million.
RELATED: Tony Awards becomes latest show disrupted by Hollywood writer's strike
Under spring sunshine, fans flocked in their thousands to city's dockside area — now a vast party zone — near the contest venue ahead of the contest. Many were draped in flags of their favored nations or dressed as their favorite acts.
"Just to come down and see people from all different nationalities, all different cultures — it's good fun," said Australia fan Martin Troedel, sporting a kangaroo on his hat."Frankly there's some quite odd acts, which is what I love about it. You never know what to expect."
Liverpool embraced Eurovision, and Ukraine, with businesses across the city flying Ukrainian flags and a program of cultural events introducing locals to the art, music and food of the eastern European country.
But organizers said they turned down a request by President Volodymyr Zelenskyy to make a video address. The European Broadcasting Union said that would breach "the nonpolitical nature of the event."
Founded in 1956, Eurovision is a European cultural institution that has produced breakout stars — ABBA and Celine Dion are both past winners – alongside performers whose careers sank without a trace.
In recent years, it has once again become a platform that can launch stars. Italian rock band Måneskin, who won in 2021, have played major U.S. festivals and opened for the Rolling Stones on tour. Ryder has had a No. 1 album and performed at the Glastonbury festival.
"ABBA did it in the 1970s, then it went quiet and it wasn't quite seen as the launchpad it is now," said Steve Holden, host of the official Eurovision Song Contest podcast. "Now, the music industry, the world, knows that if you appear at Eurovision, you could be in for a great thing."