Foster families are needed more than ever, says Metro Detroit agency
SOUTHFIELD, Mich. (FOX 2) - In Michigan, about 10,000 children are in foster care, the idea is to provide a safe, nurturing home for kids until they can be returned with their families.
May is National Foster Care Month and a Metro Detroit agency is hosting an open house to show how you can help children in need - or even provide a safe and caring home.
Before Deborah Wilson was placed in a different foster care situation by Spaulding for Children, life with her foster family was not easy.
"I was then adopted by that foster parent as a commodity, myself and my sisters," she said. "That was my first stint in foster care."
Just before turning 16, she was able to live with her cousin, thanks to Spaulding, a nonprofit child welfare agency.
"I call it the second leg of my foster experience," she said. "I received services from Spaulding that contributed to my greater success."
Wilson's story underscores the need for good foster and adoptive parents.
"Most times when people do become interested, they want to care for the younger children. They're looking for children aged 0-3, but the greatest need is for our teenage community," said Stacey Oakes.
Oakes says the agency has seen a decline in people interested in fostering- while the need has grown.
"We are seeing more children coming into care with various challenging behaviors," she said. "With that said we're seeking families that are willing to be trauma-informed (and) trained, to help us to care for these children."
They have a Foster Care Open House on Wednesday, next Wednesday from 4 to 7 p.m.
"I really challenge people come in with an open mind," said Wilson. "Really challenge people, come in with an open mind, think about things that you would have liked someone to contribute to your life.
"There are so many pieces to the puzzle, that we all can contribute to give a child a shot at wholeness, give them a shot at healing and a future."
The open house is for anyone whose interested in fostering or mentoring. Spaulding makes it clear they support families who bring children into their homes.
They want to make sure that families never feel alone and provide 24-hour support for you and the child you may bring into your home.
For more information on Spaulding go HERE to learn more.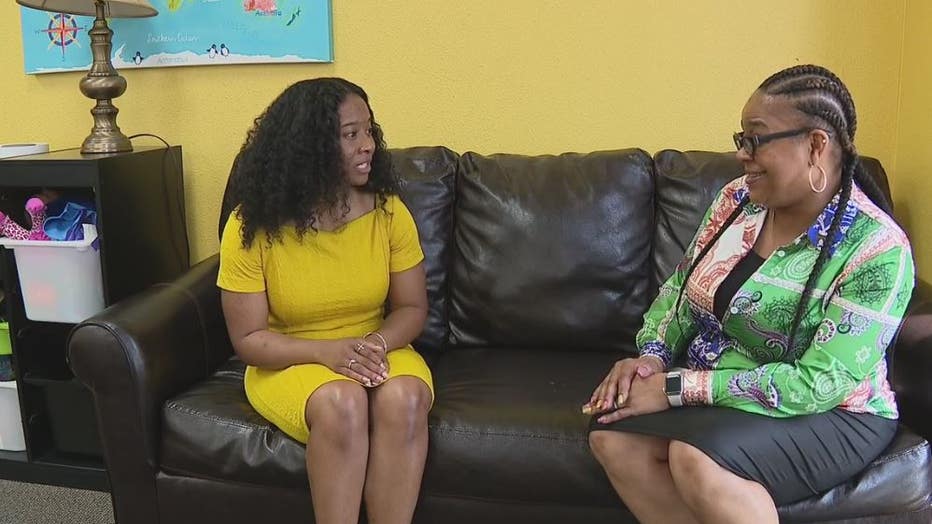 Deborah Wilson, former foster child, left, and Stacey Oakes, Spaulding for Children.