Fourth person dies from rare EEE mosquito-borne virus
(FOX 2) - A fourth person in Michigan has died from Eastern Equine Encephalitis (EEE), the rare mosquito-borne virus.
The Michigan Department of Health and Human Services said the death is in Calhoun County. WWMT-TV reports that it was a 79-year-old from Battle Creek.
Ronna Bagent tells the television station that her father was hospitalized in September with severe flu-like symptoms before doctors were able to confirm the illness through blood tests.
Nine cases have been confirmed in six other counties in Michigan, all in the southern or southwestern region. Cases are in Barry, Berrien, Calhoun, Cass, Kalamazoo and Van Buren counties.
More than 30 animals -- including 18 horses -- in more than a dozen counties also have died from the disease. Those animal cases are in 15 counties: Allegan, Barry, Berrien, Calhoun, Cass, Genesee, Jackson, Kalamazoo, Kent, Lapeer, Livingston, Montcalm, Newaygo, St. Joseph and Van Buren. 
| RELATED STORIES:
Health officials to use aerial spray for mosquito-borne virus EEE
2 wolf pups at Mich. zoo die of mosquito-borne virus EEE
Be aware, not alarmed, Oakland County warns of "most dangerous mosquito-borne virus"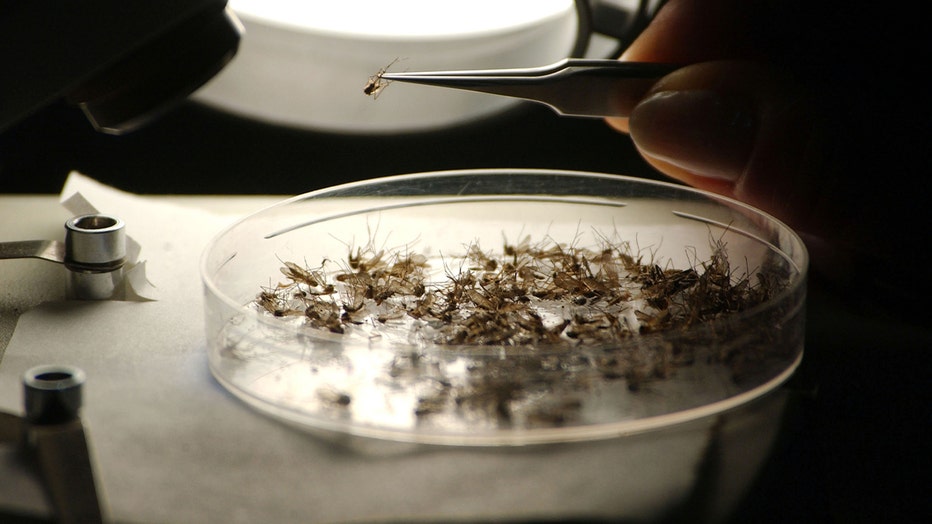 State health officials say low-flying aircraft were expected to spray pesticides Wednesday in Calhoun and 10 other counties. The pesticides kill adult mosquitoes on contact.
Aerial spray will continue until all areas of risk are treated or there is a hard frost, sufficient to kill mosquitos.
EEE is one of the most dangerous mosquito-borne diseases in the United States, with a 33 percent fatality rate in people who become ill. People can be infected with EEE from the bite of a mosquito carrying the viruses. Persons younger than age 15 and over age 50 are at greatest risk of severe disease following infection.
Fox 2 reported on this story from Southfield, Mich.