FULL COVERAGE: Kavanaugh-Ford hearing before Senate Judiciary Committee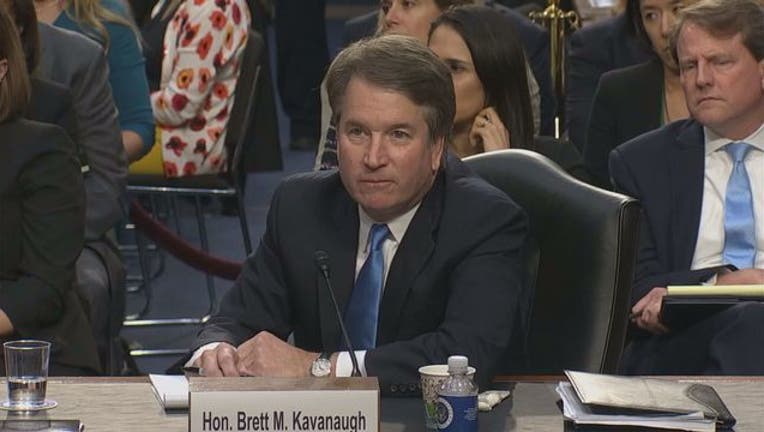 WASHINGTON (AP) - The woman accusing Supreme Court nominee Brett Kavanaugh of sexually assaulting her when both were teenagers has finished her testimony before a Senate panel. 
California psychology professor Christine Blasey Ford finished her testimony Thursday afternoon, about four hours after the hearing began. Ford alleges that one night in the summer of 1982, a drunken Kavanaugh forced her down on a bed, groped her and tried to take off her clothes. She said she was ultimately able to escape. 
Ford showed no hesitancy in affirming the crucial question about the alleged attack, telling senators her certainty that Kavanaugh was responsible was "100 percent." 
Lawmakers are expected to next hear from Kavanaugh, who has denied the allegations. 
LIVESTREAM: You can follow along live with the committee hearing here at fox2detroit.com/live. It is expected to resume around 3 p.m.
 Kavanaugh told the Senate panel that his family and his name "have been totally and permanently destroyed." He says his confirmation process has become "a national disgrace" and a "character assassination."
Kavanaugh told lawmakers Thursday in his opening statement to the Senate Judiciary Committee: "You may defeat me in the final vote, but you'll never get me to quit. Never."
Kavanaugh's comments Thursday came in an extraordinary, 45-minute opening statement in which he repeatedly expressed rancor toward Democrats on the Senate Judiciary Committee. 
Kavanaugh is blaming Democrats for the fraught environment stemming from allegations of sexual misconduct made by Christine Blasey Ford and two other women. He denied sexually assaulting anyone, including Ford when they were teenagers in high school. 
The 53-year-old nominee gestured toward the Democrats seated to his right when he said that "thanks to what some of you on this side of the committee have unleashed, I may never be able to teach again." He repeated that formulation when talking about coaching his daughters in basketball.
Republican Sen. Lindsey Graham says the Democrats' treatment of Kavanaugh is the "most despicable thing" he has seen in politics. 
Ford's testimony earlier in the day on Thursday on Capitol Hill made for riveting -- and potentially devastating -- TV, with Fox News' Chris Wallace calling it a "disaster" for Republicans, and some commentators at other networks echoing that assessment.
The California psychology professor's account of being attacked sexually by Supreme Court nominee Brett Kavanaugh when they were high school students more than three decades ago was carried live by the major broadcast and cable networks in a spectacle that transfixed people across America.
Kavanaugh, who has emphatically denied the allegations, was scheduled to testify later in the day.
Several TV commentators said Ford's account in front of the Senate Judiciary Committee was tough for Republicans and Kavanaugh's hopes of confirmation, but the comments on Fox were particularly important because the White House said that was the network that President Donald Trump, who was flying from New York to Washington, was watching on Air Force One.
Wallace and some others on Fox used breaks in Ford's testimony to say that she was doing a strong job and express frustration about the prosecutor hired by the Republicans to question Ford.
"This was a disaster for the Republicans," Wallace said after the first break in testimony.
Wallace said that there has been a lot of talk in the country about the allegations and that two of his daughters had recently told him stories about things that had happened to them in high school that they had never told their parents before.
"I don't think we can disregard Christine Blasey Ford and the seriousness of this," he said. "I think that would be a big mistake."
His Fox colleague Brit Hume said of Ford: "The more hesitant, the more fragile she has seemed, the more credible and powerful she seems to the audience."
Similarly, ABC's Dan Abrams said Ford's testimony was an "unmitigated disaster" for Republicans. CNN's Wolf Blitzer suggested people watching in their homes were crying as they listened to her story. NBC's Savannah Guthrie said Ford's description of Kavanaugh and a friend of his laughing uproariously during the alleged attack is a moment that will resonate with many Americans.
On the Fox Business Network, Stuart Varney appeared frustrated by Rachel Mitchell, the sex crimes prosecutor brought in by the all-male GOP members of the Senate panel to question Ford. He said Ford was "perhaps in the process" of ruining Kavanaugh's career and undermining the integrity of the Supreme Court.
"Why can't that person be questioned vigorously?" Varney said. "Why do we have to step back and with absolute maximum caution have her interviewed by another woman?"
Also on Thursday, The New York Times deleted and apologized for a tweet that asked readers to vote on whether they thought Ford's testimony credible. "In retrospect, a Twitter poll is insensitive in light of the gravity of the hearing," the newspaper said.