Giant bug found at an Arkansas Walmart identified as a Jurassic-era insect
A stroll through an Arkansas Walmart on the hunt for milk turned up a giant discovery that a man will never soon forget – a Jurassic-era insect thought to have disappeared from eastern North America.
Back in 2012, Michael Skvarla was a doctoral student at the University of Arkansas when he spotted the giant insect along a store's facade in Fayetteville.
The entomology student carefully put it in his hand and took it home, where he forgot about the specimen for years.
Fast-forward nearly a decade later, and Skvarla, now the director of Penn State University's Insect Identification Lab, decided to show students what his personal insect collection looked like while under a microscope.
During a live zoom class, Skvarla discovered that what he once labeled your average day insect was anything but.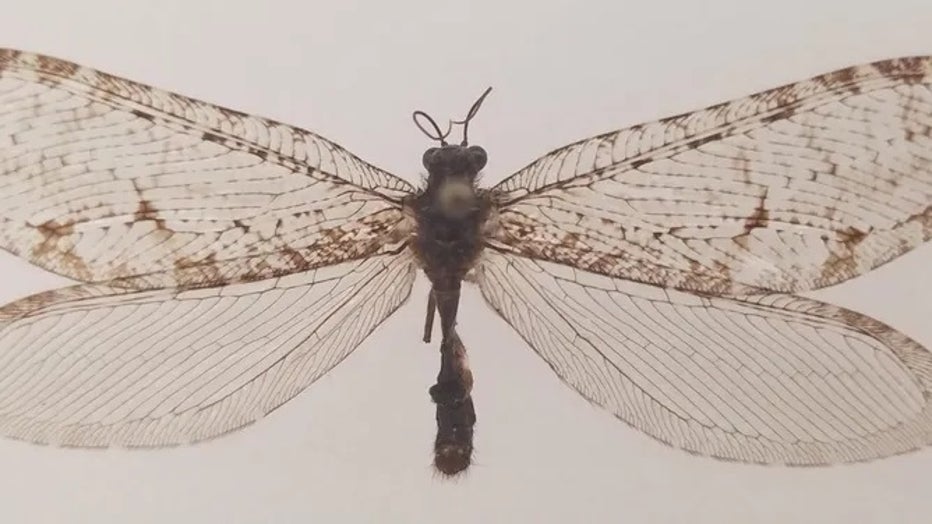 The Polystoechotes punctata or giant lacewing was collected in Fayetteville, Arkansas in 2012. (Michael Skvarla / Penn State / FOX Weather)
"We were watching what Dr. Skvarla saw under his microscope, and he's talking about the features and then just kinda stops," Codey Mathis, a doctoral candidate in entomology at Penn State, stated. "We all realized together that the insect was not what it was labeled and was in fact a super-rare giant lacewing. I still remember the feeling. It was so gratifying to know that the excitement doesn't dim, the wonder isn't lost. Here we were making a true discovery in the middle of an online lab course."
ANTARCTICA'S 'DOOMSDAY GLACIER' IS MELTING AWAY DIFFERENTLY THAN SCIENTISTS FIRST THOUGHT
The new identification given to the bug by Skvarla was a giant lacewing – a species that can be traced back to Jurassic era and that hasn't been spotted in eastern North America since the 1950s.
Penn State reports the species is known to have a wing span of around two inches, which is much larger than today's conventional bug.
Experts hypothesized the insect's disappearance could have been tied to an increase in light pollution or even the suppression of forest fires in eastern North America.
SEE THE MASSIVE ALLIGATOR FOUND LURKING IN A SOUTH FLORIDA SWAMP
"It could have been 100 years since it was even in this area — and it's been years since it's been spotted anywhere near it. The next closest place that they've been found was 1,200 miles away, so very unlikely it would have traveled that far," Skvarla explained.
Northwest Arkansas lies within a region that entomologists deem to be a biodiversity hotspot and is relatively understudied.
As for the remains of the insect, it is now part of the collections at the Frost Entomological Museum at Penn State.
"Discovery doesn't always hold that same kind of grasp on people that maybe it did 100 years ago," Louis Nastasi, a doctoral candidate studying entomology at Penn State, stated. "But a finding like this really highlights that even in a run-of-the-mill situation, there are still a tremendous number of discoveries to make about insects."