Great Lakes help keep coldest air out of Michigan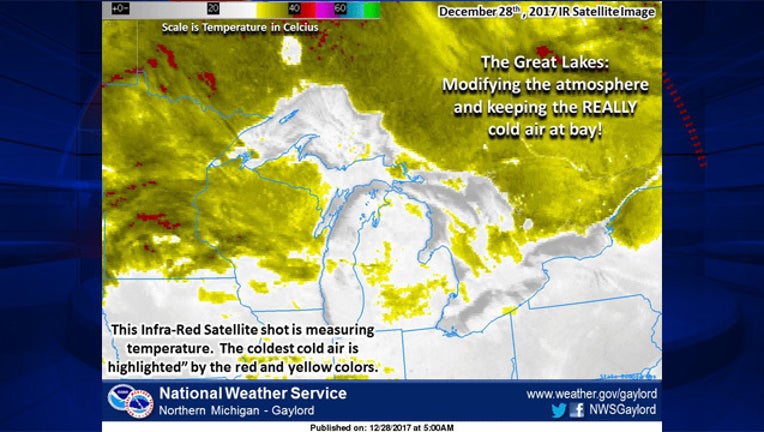 article
DETROIT (WJBK) - With highs in the teens this week and lows at or below zero, it's hard to say that there's any kind of warmth whatsoever in Michigan. While that's true, it could be much worse if it were not for the Great Lakes.
The National Weather Service in Gaylord shared an infrared image of the atmosphere that shows most of the Lower Peninsula of as well and most of the eastern half of the Northern Peninsula of Michigan are actually warmer than states on the other side of the lakes.
The NWS explains this is thanks to a cloud 'blanket' that the Great Lakes create:
"The warmer (relative to the air temperature) waters heat the air above and create clouds to "blanket" the surrounding area. You can see some of the colder air making it across the international bridge, where temperatures of -20 to -30 (Celsius) around the Soo confirm this."
Lake Michigan is the warmest of the Great Lakes with some spots reading around 50 degrees (Fahrenheit). Lake Huron is in the 40 degree range while Lake Superior and the western of Erie are all at the freezing point.
All this being said, Flint set a record of -17 degrees the same morning the 'cloud blanket' was published by the NWS. So it's still very cold - just not AS cold.
Of course the cloud blanket won't last once the lakes start to freeze. When that happens, the blanket will be gone and we'll be just as cold as Wisconsin and Canada.