Grins and handshakes as Trump encounters Putin for first time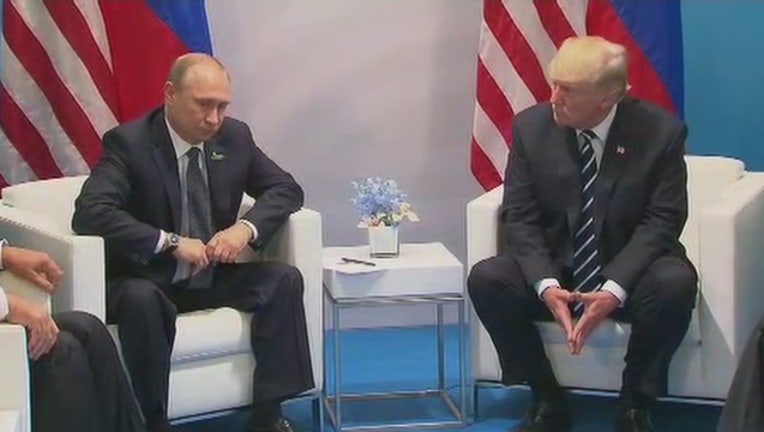 article
HAMBURG, Germany (AP) - With broad grins and a warm handshake, President Donald Trump and Russian President Vladimir Putin warmed up for their historic encounter on Friday under the shadow of U.S. outrage about Russian election-meddling and nagging questions about potential Trump campaign collusion.
Ahead of a formal, sit-down meeting, Trump and Putin were seen exchanging pleasantries as a leaders' retreat got under way in Hamburg. A brief video clip showed Trump outstretching his hand to Putin as officials gathered around a table, then patting Putin's elbow as both men smiled. In another clip, Trump casually patted Putin on the back as they stood side by side.
Video of the brief exchange was posted to Facebook by the German Cabinet. It was the first known in-person interaction between the two men, who have spoken by telephone since Trump was inaugurated in January.
The two leaders planned later Friday to hold longer talks on Syria and other issues on the sidelines of the Group of 20 summit of industrialized and developing nations. The White House said it has scheduled 35 minutes for the meeting.
"Much to discuss," Trump tweeted in advance of the encounter.
The heavily anticipated meeting is being closely scrutinized for signs of how friendly a rapport Trump and Putin will have. Trump's predecessor, President Barack Obama, had notoriously strained ties to Putin, and Trump has expressed an interest in a better U.S.-Russia relationship. But deep skepticism about Russia in the U.S. and ongoing investigations into whether Trump's campaign coordinated with Moscow during last year's election have made a U.S.-Russia detente politically risky for Trump.
As leaders gathered at a summit hall in Hamburg for a group photo, Trump and Putin stood on opposite sides of the tableau. Putin chatted casually with German Chancellor Angela Merkel before taking his spot for the photo next to Turkish President Recep Tayyip Erdogan. After the cameras snapped away, Merkel, in the center, dismissed the group with a firm nod of the head.
Outside the summit site, anti-globalization protesters were causing problems for first lady Melania Trump, who was kept from joining other leaders' spouses for their own program of events. Mrs. Trump's office said that because of the protests, local police hadn't cleared her to leave the government guest house where she and Trump were staying. Demonstrators set dozens of cars ablaze a day earlier.
In the lead-up to the meeting, Trump used a speech in Warsaw on Thursday to voice a list of grievances about Russia. He urged Putin's government to "cease its destabilizing activities in Ukraine and elsewhere and its support for hostile regimes -- including Syria and Iran -- and to instead join the community of responsible nations in our fight against common enemies and in defense of civilization itself."
But much of the focus -- both in Washington and Moscow -- will be on whether Trump broaches the issue of Russia's meddling in the election. Putin, a former Russian intelligence agent, is known to come to high-profile meetings like this well-prepared.
In a news conference before he flew to Germany, Trump again refused to unequivocally accept the conclusion by multiple U.S. intelligence agencies that Russia interfered to try to help Trump win last November. Trump said it could have been Russia, but that other countries could have meddled, too.
"Nobody really knows for sure," Trump said.
Trump, who likes to have neatly packaged achievements to pair with high-profile meetings, may seek some concessions from Russia to show he's delivering progress and helping restore a once-productive relationship that he recently described as being at an "all-time low." Putin would almost certainly want something in return.
The list of issues ranges from Syria to Iran to Ukraine, and now North Korea, following Pyongyang's test this week of a missile capable of striking the U.S.
Russia wants the U.S. to return two compounds in New York and Maryland that were shuttered by the Obama administration as punishment for election meddling. It also wants the U.S. to ease Ukraine-related sanctions. The U.S. seeks a resumption of adoptions of Russian children by American parents, an end to harassment of U.S. diplomats and other measures.
In Washington, Trump is under intense pressure from both parties to confront Putin directly over the election interference. Several senior Democratic U.S. senators served notice in a letter Thursday that Trump would be in "severe dereliction" of his presidential duty if he fails to make clear that Russia's interference in U.S. democracy will not be tolerated.
"The upcoming elections cannot be a playground for President Putin," said Senate Minority Leader Chuck Schumer and others, including the top Democrats on the Intelligence, Armed Services, and Foreign Relations committees.
And Rep. Adam Kinzinger, an Illinois Republican and House Foreign Affairs Committee member, said this week that he will "raise holy hell" if Trump goes soft on Putin.
With emotions running so high, every detail of the Trump-Putin meeting will be parsed for deeper meaning, from their facial expressions to how they shake hands.
"The big thing to watch will be what Putin asks for and what he offers in return and whether there's a sense of receptivity on the president's part," said Derek Chollet, a former Pentagon and State Department official now at the Washington-based German Marshall Fund.
The Trump-Putin tete-a-tete was the highest profile meeting that Trump was holding while at his first G-20 summit, where was also meeting Friday with President Enrique Pena Nieto of Mexico, another nation with a rocky relationship with Trump's young administration.
Pena Nieto had been scheduled to visit the White House shortly after Trump took office, but scrapped the trip at the last minute to protest Trump's insistence that Mexico pay for the border wall he has vowed to build to deter illegal immigration. Pena Nieto insists Mexico won't pay, and Trump has been vague about how he'll force the U.S. neighbor to cover the costs. Another issue is the North American Free Trade Agreement, which Trump has vowed to renegotiate.
The Putin meeting comes midway through a hectic, four-day European visit for Trump, who addressed thousands of Poles in an outdoor speech in Warsaw, Poland, on Thursday. He met in Germany with Chancellor Angela Merkel, the summit host, and had dinner with two Asian allies -- Japanese Prime Minister Shinzo Abe and South Korean President Moon Jae-in -- to discuss North Korea's aggression.
The Group of 20 gathering of wealthy and developing nations is the first since Trump announced that the U.S. would withdraw from the Paris climate agreement, deeply disappointing Merkel and other U.S. allies who had hoped to maintain momentum in battling climate change. Undeterred, European leaders have vowed to press forward.