Gun advocates release video of encounter with Dearborn Police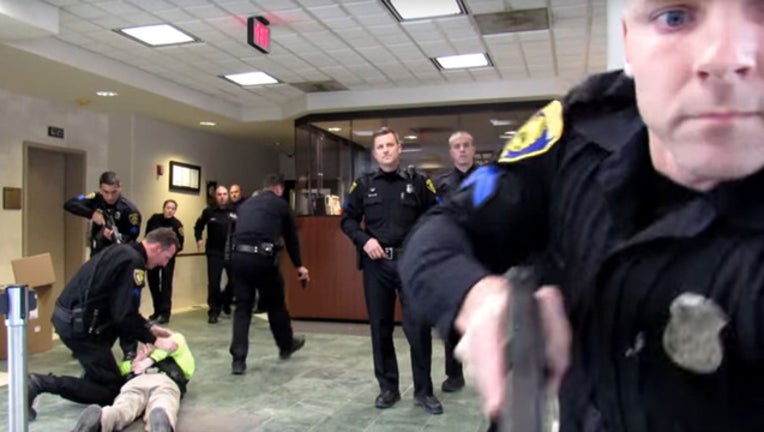 article
DEARBORN, Mich. (WJBK) - The men who wore body armor while carrying firearms and cameras into the Dearborn Police Department last month have released their footage showing the tense moments of their encounter with police.
The two men entered the Dearborn Police Department in February to file a complaint about a traffic stop. At least one of the men was armed with a gun. One of the men wore a ski-type mask and initially refused to drop his weapon. The two men were eventually arrested, and nobody was injured. Dearborn police have been credited with showing incredible restraint by some gun advocates. You can watch the encounter in the video player below.

WARNING: Video contains offensive language that is not uncensored
Click here if you can't see the video
The video begins outside of the department as the men go through the doors. "Keep in mind, I am a journalist gathering content for a story," a subtitle reads on the video before the men get inside.
"Put that on the ground!" an officer can be heard yelling just moments after they enter the building. Several more voices begin shouting the command before the two men are eventually surrounded by several officers.
Masked gun advocates arrested after bringing guns into Dearborn police station
"It's all legal, sir," the man carrying the gun can be heard saying. Officers continue to demand he drop the gun.
"This is 100 percent lawful. Open Carry is legal in Michigan. There's no difference in this area. This is a public common area! You [expletive] stand down," one of the men yells back at police. "I came in here to file a complaint against you [expletive].
James Baker, 24, of Leonard and 40-year-old Brandon Vreeland of Jackson had been pulled over by Dearborn officers. The on-duty sergeant conducted a traffic stop to investigate, but did not find any guns and released the men. Disgruntled, the men drove to the Dearborn police station to confront officers.
Baker was armed with two guns. Vreeland was carrying a camera and tripod and they were also streaming the encounter live to Facebook.
Masked gun advocates in Dearborn pulled similar stunts in Oakland County
Several grueling minutes later, Baker got on the ground and was arrested.
Officers turned to Vreeland to get him in custody.
"You don't tell me what to do, dude," he can be heard saying to officers. "I'm your boss, you understand? My tax dollars pay yours."
At that moment an officer can be seen approaching Vreeland to knock over his tripod. The video switches to surveillance video from inside the department as Vreeland is tackled and taken into custody.
Dearborn police chief takes aim at open carry demonstrators
Both men face multiple charges, including breaching the peace and failure to cooperate. Both men are free on bond.
Many of the comments on their YouTube video condemn the men's actions, agreeing they did breach the peace. Open Carry Michigan has also contacted Dearborn police to condemn the men's actions.